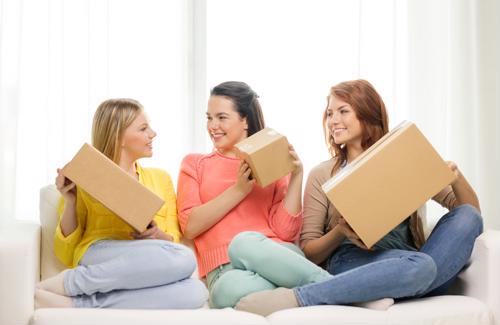 Everyone loves getting mail. That's why a subscription box is a great way to connect with your customers and give them something exciting to look forward to.
Subscription boxes are a fun and exciting way to curate your products for your customers focused on themes and preferences. However, getting your program off the ground and ensuring you're making the most out of each subscription can be daunting. Here are ways to revolutionize your subscription box company.
Make the most out of each subscription
According to a study done by iMarc, the subscription box industry is expected to grow more than 20% between 2021 and 2026 due in part to the  exposure brought on by the uptrend social media, blogs and influencer marketing.
While social media marketing is getting more expensive, it's important to make the most out of each subscription. Create valuable content in each box and remember to upsell at every opportunity.
Optimize your customer care
The e-commerce industry has been growing steadily over the past few years and 2020 was no exception. With most businesses excelling online now, your customers know that they can get the products inside of your subscription box elsewhere on their own.
You need to provide more value to your customers than they would get if they put a box together themselves. One way to do that is by having stellar customer service that will meet a shopper's needs like streamlining operations, live inventory visibility and smart order routing.
Provide transparent shipping
Managing your customers' expectations and accurately following through with your offers not only creates consistency on your end but builds relationships with your customers.
Your order management system (OMS) should offer a way to automate communication like shipping delays or low inventory to your customers so you never miss an opportunity to connect with them.
Offer flexible free trials and payment options
Customers want to know that they can try something new without the commitment to a long-term contract right away. You could offer a trial month or their first box for free to meet this expectation that benefits both parties: they get to try your product and your analytics aren't plummeting with canceled subscriptions.
Additionally, flexible payment options allow the customer to enjoy each box to its fullest before the next payment is due and you send out a new box. Instead of overwhelming customers with more products before they're ready, offer flexible payment, timing or frequency options.
You could automate emails to your customers before they're about to be charged for their next box for even more transparency.
Keep inventory up to date
When customers are shopping online, they want to know if the item they're looking at is in stock and if it's not, when it might be available again. Without an automated system, your employees might be frantically trying to keep the website updated and their inventory stocked.
Perfect customer feedback responses
If you've found you're losing more subscribers than you're gaining, be sure to include a follow-up questionnaire that asks why a person made their decision.
These options can help your business in several ways:
Customers feel heard.
Improved business practices based on data.
Chance to save a subscriber by answering their concerns.
Improve your bottom line.
See more brand growth.
Manage your omnichannel presence
Ecommerce has revolutionized the world of shopping with customers able to browse online, via mobile devices, in-store and beyond. You need to make sure that your customers can find you across platforms and that they can complete their purchases at each step. Streamline this process with an OMS that allows platforms to "talk" to each other so you never miss a purchase, a new subscription or a return request.
Plan for declined cards
This may seem like an overlooked point, but it's extremely important to ensure you keep track of these details. If a customer has not canceled their subscription but their card declined, this can mess up your forecasted income while upsetting the customer who may not be aware of the mix-up. Have a plan for how to address this point with your customer to keep them engaged with the subscription.
Find an all-in-one management solution
When you work with SFG, you get a full-service subscription box management solution that supports your supply chain pain points. SFG's FlexOMS can help with these points and more. When every system in your supply chain is working together — including inventory, payments, and customer service — you can focus more on the business.
Partner with SFG for the solution to your subscription box management. Contact us today to get started.