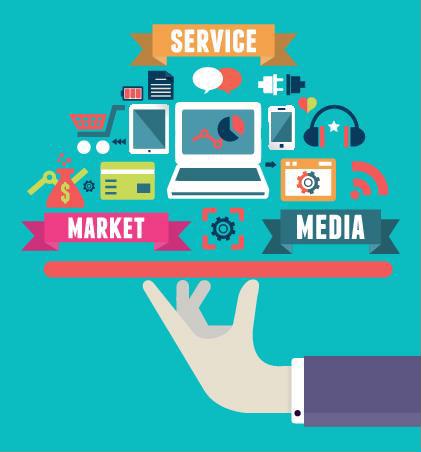 For decades, single-channel marketing was the only way that businesses operated — relying solely on one method of POS (point-of-sale) to sell their products to their clients. Traditionally, this meant having a brick-and-mortar store where customers could enter, browse and make their purchases in-person.
But with the advent of the internet, digital platforms revolutionized the marketplace, allowing businesses to turn online webstores into an additional space from which customers could do their shopping. Unexpected circumstances like the COVID-19 pandemic have further led to growth in this sector, leading to a 44% increase in ecommerce in 2020.
To adapt to this new tech-savvy customer base, businesses have had to meet consumers halfway and adapt to the demand. Many companies opened up different channels — like a webstore — in addition to what they previously had.
Multiple channels now the norm
Integrating multiple shopping storefronts into a singular business strategy helped facilitate the advent of multi-channel marketing. Multi-channel marketing made access to the business and its products easier than ever, allowing customers more ways to shop at their leisure.
But beyond multi-channel marketing came the creation of other marketing strategies: omnichannel retail and unified commerce.
In this article we'll discuss what exactly those two terms mean and how you can best use them together.
What is omnichannel marketing?
Spurred by the growth of social media and influx of consumer data collected by businesses through every transaction, omnichannel marketing seeks to create a more targeted and personal shopping experience for the consumer.
One such aspect of omnichannel marketing lies in the inherent power of social media.
Outside having an online store and having a physical storefront, companies that opt into omnichannel marketing are usually active on additional social media channels in order to interact with customers and establish an active presence online. A cohesive brand that is active and listening on Instagram, Facebook and Twitter is vital to the customer experience, social media analytics firm Sprout Social found.
As a potential customer makes their way onto these platforms, they are continually reminded of a company's presence through sponsored posts, relevant ads and online interaction. These subtle reminders keep the business peripherally in the customer's mind the next time they want to purchase something.
"Omnichannel marketing creates a personal shopping experience for the customer."
Social media engagement and company transparency has also shown to be largely successful for businesses: "9 in 10 consumers will buy products from a brand they follow on social media," the same Sprout Social report revealed.
Another way that omnichannel marketing could enhance the shopping experience is by creatively reaching out to the customer outside of these platforms.
While shopping in an online webstore, suggested product pop-ups could influence a shopper to add another item to their bag. Email subscriptions may notify customers that their favorite items are in stock, allowing them to be the first in line to buy it. Newsletters could send limited promotional discounts to persuade people to enter their website. Omnichannel marketing makes it easy for a company to branch out through these different channels and easier than ever for the customer to make a purchase.
No matter how it may be implemented, the customer is ultimately at the heart of an omnichannel marketing strategy.
What is unified commerce?
On the other hand, the term unified commerce is the idea that all of the separated channels of a multi-channel or omnichannel marketing system are consolidated into one point. Whether that is a central database or a universal point-of-sale system across the company, unified commerce can tidy up how things look on the backend for businesses.
For example, if you run a company with both an online store and a storefront, a unified commerce system simplifies your marketing structure by linking each of the different avenues together. For inventory, this could mean working off of a universal database that updates your overall inventory in real time. In businesses that are hoping to simplify payment types, one universal system type could streamline the way a company manages customer transactions.
How can I use unified commerce to enhance my omnichannel marketing strategy?
An easy way to think of this is this: While omnichannel marketing is focused on perfecting the frontend customer experience through different channels, unified commerce tidies up the sales as a result of those channels on the backend — ultimately making it simpler for everyone to be on the same page.
By making these two systems work hand-in-hand, both systems organize your company's processes and help your operation run a lot more smoothly.
Benefits of integrating the two systems
So why should you choose to use both omnichannel marketing as well as unified commerce systems? We'll discuss why incorporating the two strategies have helped companies bring their A-game.
Reduce information silos
If you are part of a big company, you'll know that miscommunication is often a key problem within companies — and it's not always due to people.
One such example can be seen through a company's inventory system. Many companies that use the omnichannel marketing strategy have different databases for their different point-of-sale channels. This could be in the form of an online webstore, a physical location or a social media marketplace. However, when something on one channel is sold, there may be a syncing delay across all channels that a particular item is out of stock.
Think about the times when you saw that an item was in stock online only to have your order to be canceled due to lack of inventory. By having a universal system work in unison, changes will be immediately and accurately reflect your store's current stock. This could work in the opposite direction as well. When allocated webstore inventory is sold out, having a more streamlined system can show if there is additional inventory in another one of your locations.
This is only one example of many — it's likely that putting all of your employees on a universal system will ease communication between parties within the company as well!
Easier payment systems
Nowadays, there are a number of payment methods that customers can use to complete a transaction.
Be it cash, Paypal, Apple Pay or VISA, these payment systems usually come with their own accompanying software, making it cumbersome for cashiers to switch through every time a new payment is made. Though these methods add more options for the consumer, these systems get particularly complicated when your company is accepting multiple payment methods on multiple point-of-sale channels — making it difficult to keep track of every transaction. Auditing completed transactions across channels can also add unnecessary stress for accountants.
By streamlining all of these transactions through a central channel, a unified commerce plan can remove potential organizational headaches you may come across.
Reduce training times for employees
Is it easier to learn how to use one program or five?
If your company is using a multitude of different systems, employees must be trained to learn separate programs for a given channel before getting to work. Further complications may happen with an employee requests to transfer departments — this could mean they have to start over from scratch and take the time to go through training again.
Putting all of your marketing channels into one central system could reduce the time it takes to train employees even if they decide to switch into another sector. This way, employees can continue to do their work uninterrupted and it saves the company time and training resources.
Organized systems lead to happier customers
By streamlining the process on both the frontend and the backend, customers will be able to get their orders fulfilled quicker and easier.
These systems also help prevent mistakes like selling customers an item that is no longer in stock, leading to fewer frustrated customers, a reliable company reputation and a stronger brand name overall.
How SFG can help
An outsourced order management system could be right for your company. Discover the features of our highly customizable, industry-leading FlexOMS solution and contact SFG to learn more!