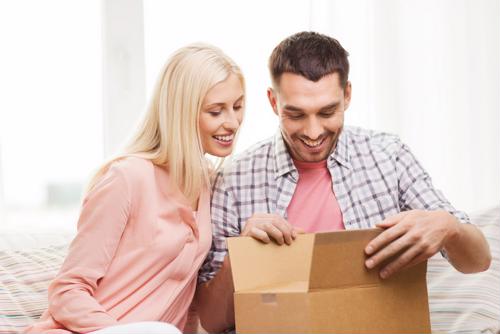 When you start setting up your ecommerce platform, there are a few factors that you have to consider, including what your product is, how you're selling it and which platform you should use. But one of the more pressing issues is how you're going to get your products to your customers.
Running your own online fulfillment operation often isn't as simple as handing a cardboard box to the U.S. Postal Service and calling it a day — creating a streamlined online fulfillment system can get much more complicated than that.
To learn about what it takes to set up a great order fulfillment system, read on!
Processing an online order
In general, online order processing follows a flexible formula that starts the second a person decides to click "buy now" on a web page.
Here's how most companies process an online order:
Receiving the order: The customer places an eCommerce order on a retailer's website. Once they put in their payment details, the order is sent to the company, alerting it that it has a new order to fulfill.
Processing the order: The customer's order is checked against the business's internal inventory management data, determining where the item they ordered is. If the item is in stock and ready to ship, the process continues without a hitch. However, if the inventory is incorrectly stated due to a online store glitch or coding error, the online fulfillment process is halted and the customer's order is canceled or placed on back order. It's important to catch issues like these as soon as possible, or you might have to deal with an unhappy online shopper.
Locating the item: The item the customer ordered now needs to be located. Each company stores its inventory differently — some may choose to use warehouses, while others have small stockrooms in their offices, for instance. Whatever the case is, the item is tracked down and moved to a fulfillment center to continue the process.
Fulfilling the order: Once it has been verified that the item is in stock and it has been moved to the fulfillment center, it's now time to get the item ready for shipment. Fulfillment associates pick all of the items in an order and pack the items safely to avoid damaging them during shipment. Packing an order correctly is key to this process — broken or damaged items not only waste inventory but also lead to customer frustration. It's important that your fulfillment associates are well-versed in this process, especially when it involves packing items of different sizes together. Some order management systems can even automatically recommend the optimal box size for each order to additionally streamline this process.
Order shipment: After the item is properly packed, the associate sends it off to the retailer's delivery fulfillment partner of choice. Whether it's through the U.S. Postal Service or a private company like UPS or FedEx, the order will be on its way!
Additional customer service: After the item arrives on the customer's doorstep, the online fulfillment process isn't over. Many issues may arise between the time the order is placed all the way until it finally gets to the customer. Maybe the item arrived damaged, or the customer decided to cancel one of the items in their order. In those instances, a fulfillment center employee will assist the customer to resolve their problem.
What do shoppers want from an eCommerce fulfillment service?
With so many different sites competing for customers' attention, it can be hard to make your eCommerce platform stand out from the rest.
Aside from offering the best products for a fair price, your online store can offer something else that might attract customers: a trusted, secure fulfillment service. To do that, you first have to know exactly what shoppers are looking for.
45% of customers are unlikely to continue ordering from a company if it delivers their order late.
A fast delivery time
An online retailer has the difficult task of convincing a potential customer to buy online and wait for their package, rather than buying in a competitor's store and getting that item instantly. The result has been shorter and shorter wait times for online packages.
Thanks to the ubiquity of Amazon and other online retailers that offer free shipping with virtually every purchase, customers now expect their orders to be fulfilled quickly and efficiently. Amazon frequently offers one-day or two-day shipping, making online shopping extremely convenient for its customers.
A report conducted by market analyst company Clutch found nearly "half of online shoppers (48%) say they normally receive packages within 2-3 days, and 42% receive them within 4-7 days." Additionally, the same study warned that many consumers (45%) say they are unlikely to continue ordering from a company if it delivers a package late. Fast delivery times can play a huge role in retaining return shoppers.
Free shipping
How many times have you gone to a website, placed an item in your cart and gasped at the price? Sometimes, the cost of shipping can deter an online shopper from putting in their payment information and instead cause them to flee in terror.
A study conducted by Barilliance cited that the cost of shipping, in addition to hidden costs like taxes, was enough to scare away 25% of customers. It makes sense from a customer's standpoint, especially when they're shopping for low-cost products. For instance, why buy a $5 item when the shipping itself costs $10?
One way you can alleviate this customer deterrent is to offer other incentives, like an order minimum that can help them qualify for free shipping. Another strategy that you might consider is pricing your items to already have built-in shipping costs.
Items that are well packaged
With hundreds and thousands of shipments being fulfilled by your company, chances are at least one package has arrived damaged. Although there's no surefire way to guarantee that all of your products will make it through the delivery process unscathed, you can reduce the chance of that happening by packaging your items well.
Delivering a broken product can lead to an unhappy customer and additional order fulfillment headaches. Ensure that your online fulfillment team knows how to put together a package correctly to avoid future issues.
A great return policy
Buying an item online from an unfamiliar online retailer can be a stressful experience. There are quite a few things that may be going through a customer's mind before they click that "buy now" button, such as, "Am I buying from a trusted vendor?" or "What if I want to return this item?"
One way you can ease your customers' fears is to have a well-defined return policy. By having one in place that offers flexibility, your audience will be more likely to give your business a try — especially when they have that peace of mind.
High customer satisfaction
When you think about what an online fulfillment process entails, customer service isn't exactly the first thing that comes to mind. However, it's integral to the entire process.
If a customer has any sort of issue with their order or any additional questions, the online fulfillment team is there to act as the face of your company. Offering great customer service and resolving customer requests is essential for any company that wants to continue selling its products online. According to a survey by Khoros, "83% of customers cited good customer service as their most important criterion for deciding what to buy." Similarly, Salesforce Research found that "89% of consumers are more likely to make another purchase after a positive customer service experience."
Be sure that you're giving your customers top-notch service in order to keep them coming back for more.
Strategies for improving online fulfillment
If you're having trouble improving your online fulfillment logistics, maybe it's time to look at your company's supply chain.
Oftentimes, having a strong, streamlined company supply chain program can help you solve many of the problems posed in the earlier section. For companies struggling to meet customer expectations, it may be time to reevaluate the way that your eCommerce business is organized.
One of the easiest ways to ensure that this problem can be solved is to invest in a high-quality order management system (OMS). An OMS includes the tools that help you optimize these operations, allowing you to run these functions smoothly.
With an OMS, it can be easy to do the following tasks — all within the program:
Track fulfillment and customer data: Funneling all of your fulfillment operations through an OMS can be extremely helpful in organizing all data regarding order fulfillment. An OMS will keep you updated through every step of the process, making it easy to track down where an individual order is and keep customer data private.
Gather insight about trends: An OMS can help log trends about your fulfillment operations and track customer behavior. For example, if more people are placing online orders through their mobile devices rather than their computers, the OMS will know about it. You can then use these statistics to update your online storefront as you see fit.
Update inventory: Another great feature of an OMS is the synchronization of inventory updates across all channels. This can reduce the amount of erroneous live listings that are available on your site, leading to less customer frustration.
Organize orders coming in from multiple channels: For a company with multiple point-of-sale channels, an OMS can verify where and when customers placed orders.
Manage customer service: A great OMS can also serve as a customer service tracking device. This way, when a customer has a problem with their order, all of the information that is relevant to the order will be at your fingertips. The OMS can also keep track of who helped the customer in the past, and how.
Looking to integrate your online fulfillment system with an OMS? SFG's FlexOMS software would be a great candidate for the job.
Having a great OMS can solve many of your online fulfillment problems.
Is outsourcing the solution for you?
Sometimes, even integrating your system with an OMS may not be enough. Although it's true that an OMS can assist in the majority of eCommerce order fulfillment cases, sometimes you need a little more help than that.
For those larger companies or businesses that want to charge into the eCommerce world full speed ahead, outsourcing with a fulfillment company might be the best option for you. Deciding to outsource your online fulfillment work entirely may be a tough decision, but it comes with its own set of powerful benefits.
No need for additional training
When you outsource your eCommerce order fulfillment operations, you'll be hiring experts in the field who have no need for training. This means that you don't have to invest in additional in-house training teaching them how to use the order management software and how to ship items correctly.
Ultimately, this saves you time and money for providing training coursework.
Fewer mistakes, more satisfied customers
Did you know that, according to a CX survey of 15,000 consumers, one in three customers will leave a brand they love after just one bad experience? With such little room for mistakes and so many online competitors, every customer interaction is important. Avoid simple mistakes by partnering with a team that knows just how to deal with the customer and provide great customer satisfaction rates.
Strong reputation right out of the gate
If you're running a new business with low brand name recognition and shaky online fulfillment methods, many customers won't be inspired to shop at your store again. By building a strong reputation with expert fulfillment representatives, you can give your business a fighting chance against the thousands of online shops that are out there.
Find your online fulfillment solutions at SFG
With our FlexOMS software and online fulfillment experts, SFG has you covered. Together, we can make your online fulfillment operations move swiftly and smoothly.
For more information about how SFG can help your business, contact us today.