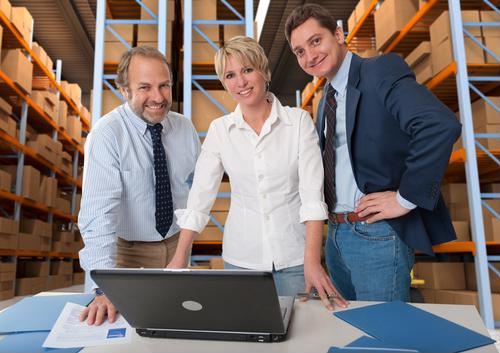 Whether it's your first time creating an ecommerce business or the third, it's important to ask yourself: How is my product going to get to the customer?
Getting a purchase order from your warehouse to the buyer can be tricky if you're trying to do it all by yourself. After all, when thousands of people order from your webstore, orders won't magically get to where they need to be without proper preparation.
To fully answer how to get your customers' orders delivered in a timely manner, you first have to know what exactly order fulfillment is and how you can use it to best serve your needs.
Read on to learn everything you need to know about the order fulfillment process.
What is the meaning of order fulfillment?
As one part of the larger supply chain, an order fulfillment operation can generally be described as the process of receiving goods, processing them and then delivering them to the customer. From the second a customer places an ecommerce order all the way until they receive it, the order fulfillment process helps make sure that the customer is well taken care of. If needed, the people in charge of order fulfillment also help with returns as well.
For the most part, if you've ever ordered an item from an online site, you'd have come into contact with a company's order fulfillment team. The more streamlined and prepared a fulfillment strategy is, the more likely a customer will be satisfied with their order.
Different types of order fulfillment
Not every company has the same method of order fulfillment. Depending on how big the company is and how they operate, they might opt for different solutions that work best for them, but not necessarily for you.
Here are a few ways that companies choose to manage their order fulfillment process:
In-house order fulfillment
For many small businesses, the entire order fulfillment service might be managed in-house due to the size of their operation. This means that every step in the process, from picking and packing the order to providing customer service, is entirely managed by a company's own employees on-site.
Usually, in-house order fulfillment is great for companies that are just starting out or don't have many products. This method of fulfillment is best suited for a smaller expected volume of orders, since employees can easily manage dual tasks of in-house fulfillment and their regular duties. Since the fulfillment process is very hands-on, handling these tasks in-house also requires an ample workspace to properly fulfill orders as well as trained internal employees who are well versed in packaging items.
Outsourced order fulfillment
Larger companies may want to consider buying services from an order fulfillment company.
Another option that many businesses opt for is an outsourced fulfillment branch to an order fulfillment company.
Outsourcing your order fulfillment process can be extremely beneficial if you're a bigger business that handles a large number of orders every day. Here are some of the benefits of choosing to outsource this process:
Saves time to train employees. Order fulfillment isn't simple. Employees have to pick the item off of the shelves, package it correctly and learn how to use an inventory management system. That's not to mention the additional training in customer order service that employees need to go through for orders or customers that require additional attention. When you outsource your order fulfillment process, you'll be hiring a team of people who know exactly how to fulfill these orders — without the need for you to constantly step in.
Saves space. Along with selling products online comes the additional question of where you're going to put all of that inventory and track where it goes. By outsourcing your fulfillment operations, you'll be able to reduce the amount of space needed to store all of these items yourself.
Streamlines order processing. Many outsourced order fulfillment teams bring with them years of experience handling customer expectations, processing orders and packing items. If you're still growing your brand reputation, you'll want to impress your customers right out of the gate with a quick and easy shopping experience.
Drop-shipping
You may have heard some customers express frustration about an item being back ordered when they place an online order on certain websites. As it turns out, many online retailers don't actually keep track of live inventory in their warehouse for customers to purchase. Instead, once someone places a sales order on the site, the order management system will order the requested item from their provider before shipping it to the consumer.
This way, an online retailer doesn't have to make space for items in their warehouse that might sit there for months before being shipped out.
Hybrid
Not sure if the in-house, outsourced or drop ship method works best for your company? Consider creating a hybrid system instead. Some companies choose to use a hybrid fulfillment process in order to make the most of the benefits of each distinct method.
For instance, a company might choose to fulfill a small amount of inventory on-hand and fulfill them in-house, but also have a drop-ship component so they're always able to receive orders. Depending on the size of the fulfillment team, the space allocated for inventory and the number of orders you may receive, this type of efficient order fulfillment strategy could work best for you. Since there is no one-size-fits-all solution for every individual company, a hybrid strategy could easily fit your needs.
The order fulfillment process, step by step
How does an order fulfillment process work? The exact sequence of events will depend on your chosen fulfillment method. However, there are a few key steps that most companies take to ensure that each of their online orders are fulfilled correctly.
Here's one example of how some order fulfillment steps might look:
Customer places an order. Without the customer first placing an order, there would be no need for an order fulfillment process! Usually, this is done via a company's ecommerce platform or even through other means, like placing a phone order.
Company receives the order. Once the customer has placed the order, that order is sent through their order management system to make sure that the company is capable of fulfilling it. Most of the time, these orders are then checked against a company's inventory levels to make sure that it's in stock or it needs to be drop-shipped before proceeding to the next step.
Order picking. At the company's fulfillment warehouse, an employee finds the merchandise that was purchased and gathers them in preparation for the next step.
Order packing. Once an employee has collected all of the items that the customer has ordered, they then figure out the best way to ship them. Multiple orders may require special care when they are being shipped in order to ensure that the order arrives at the customer's doorstep safe and sound.
Order is shipped to the customer. Using a service like USPS, UPS or FedEx, the shipment is delivered directly to the customer.
Customer service requests. If the customer encounters a problem during the order fulfillment process, you'll want members of the team to handle inquiries or additional requests. For instance, if a customer decides that they want to cancel part of their order, that can be managed.
The importance of a good order fulfillment rate
For a good indicator of how your fulfillment team is doing, you should consider your order fulfillment rate. This is the rate at which your orders are being fulfilled throughout a set period of time.
To calculate this number, first, take the number of orders processed by your company. Then, divide that number by the total number of orders received during a set time period.
For example, let's say that within a three-week timeframe, your company receives 100 orders and your fulfillment team processes 60 of them. Your order fulfillment rate is 60/100, which comes out to .6, or 60%. For such a small volume of orders, this rate is not ideal. In the best-case scenario, your order fulfillment rate should be around 100%.
You may want to reevaluate your order fulfillment software if this is the case, or see how you can improve that number in the future to provide the customer with the perfect order.
Improving your order fulfillment process
If you find your order fulfillment system leaves more to be desired, it may be time to start looking at other methods of improving your order fulfillment process.
First, try to diagnose what is causing your order fulfillment rate to fall short. Is it the volume of orders that you are getting? Are you lacking employees? Is it due to a disorganized order management system? Once you've gotten to the root of the problem, you'll be able to better tackle the issue at hand.
If you're still having trouble making your order fulfillment strategy the best that it can be, why not try reaching out to the experts at SFG for help? SFG provides a team of highly trained fulfillment process experts who bring years of experience to the table. Using an ecommerce fulfillment provider system like SFG's FlexOMS program that can manage one, several or all of your order fulfillment needs can make a big impact on customer satisfaction and warehouse management.
For more information about how SFG can bring your order fulfillment process to the next level, contact us today.