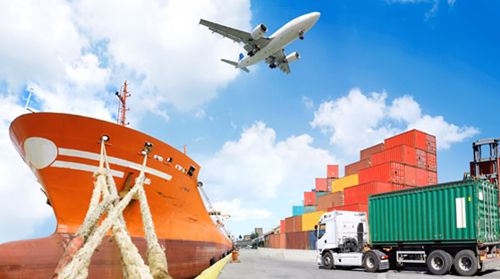 The ecommerce experience is getting more efficient every day. As customers grow increasingly comfortable with online shopping, businesses are being forced to navigate the path from storefront marketing to maintaining an omnichannel presence. This rapid evolution includes warehousing, order management, and fulfillment.
What is a 3PL provider?
Handling all of your operations in-house is technically the most efficient way to conduct operations. However, it's hard, if not impossible, to be an expert in all facets of your business. Sometimes it's important for growth to tap a third-party logistics provider that can focus on a certain aspect of your business so you can turn your attention to growing your business and promoting customer satisfaction.
In its July 2020 report, McKinsey & Company found that 66% of executives surveyed were adopting automation and moving their fulfillment services to third parties and AI to "reduce workplace density and cope with surges in demand."
When it comes to your inventory and warehousing, a third-party logistics company, or a 3PL, can help you pick, pack, and ship your products. A 3PL can satisfy your customers with seamless order fulfillment as your ecommerce business continues to run smoothly.
The basics of 3PL services
Instead of leaving you operating a warehouse, an online business, and a storefront all at once, a 3PL can provide support by taking on many of the same services as order fulfillment businesses. 3PL providers may manage both inbound and outbound transportation as well as inventory management for their clients. Third-party management means that while you do not own the warehouse, you are renting shelf space and employee attention for your products in large, shared spaces.
Depending on your needs a 3PL can handle:
picking and packing
shipping and receiving
inventory management
reverse logistics
warehousing
kitting and customization
Third-party providers were created to maximize order fulfillment speed and efficiency. Using these services gives businesses the chance to grow their inventory as needed without hiring more staff or expanding out to a new space. 3PL providers can handle extra inventory or scale back as needed without compromising your workflows or customer service.
Different 3PL providers offer different types of fulfillment and warehousing services. Depending on your needs, you could choose a specialized 3PL to outsource your warehousing, shipping, inventory management, etc. They can ease changes in inventory between seasons, when customers shift their priorities or when fluctuations occur in the market. Typically, 3PL providers are integrated with the warehouse and transportation processes of a business to streamline the entire order management process.
3PLs have the tools and technologies necessary to optimize your order operations in ways that would otherwise feel like an overhaul for your business. For example, management software can keep track of your inventory, ping warehouse management when an order has come through, and track the package as it travels out to the customer.
While a robust in-house system could have the capacity to accomplish those tasks, it would take hours and thousands of dollars to develop such a platform. A 3PL can offer solutions right away, on a budget that works for you.
3PL vs. 4PL
As you shop for 3PL providers, you may come across the term 4PL as well. A 4PL, or fourth-party logistics provider, will bring together resources, capabilities, and technology to streamline the fulfillment ecosystem. They may also collaborate with multiple 3PL vendors for transportation and warehousing, along with any carriers. They target the complete supply chain process and act as a single point of contact.
The difference between 3PLs and 4PLs is that 3PLs focus on backend functions like transportation, global shipping, and inventory management.
Benefits of choosing a 3PL provider
While the benefits may already be apparent, there are a host of services a 3PL or 4PL can provide that can make outsourcing your fulfillment management a no-brainer.
Save time and money
As mentioned above, 3PLs can help you save time and money in several ways. They eliminate or at least greatly reduce the need for warehouse space, transportation, technology, and large numbers of employees to carry out orders. The technology involved can automate everyday tasks and alert you to any bottlenecks in the supply chain. With these services, you can avoid managing in the dark or engaging in trial and error processes that end up being costly mistakes.
Enhance international shipping
If you are shipping internationally, a 3PL can help manage the latest shipping policies and protocols — a process where demands are often shifting, and which can quickly get overwhelming. Issues like documentation, duties, customs, and new regulations pop up all the time, and a 3PL can help you navigate those issues.
Scale with ease
A 3PL can help a company scale as needed depending on the time of year. From space and labor to transportation and inventory, as the seasons change and industry fluctuations occur, a business is not tied to any one asset with a 3PL. Third-party logistics providers can monitor your management software to help eliminate inefficiencies and improve your logistics initiatives.
Overall, a 3PL can help you improve your order chain management from top to bottom. With a team of professionals equipped with the technology and expertise necessary to advance your customer service capabilities, you'll have the potential to bring continuous improvements to your logistics operations. When you've streamlined your logistics, you can cut down on time and money wasted on trial and error.
The third-party logistics process
When you work with a 3PL, when an order comes in, it will ship directly from the warehouse to your customer. When you order new inventory, it will go directly to the warehouse and from there, the third-party can provide a multitude of services to your business and your customers. A great 3PL will monitor order progress and customer changes, so you're clued in on the latest insights.
Omnichannel platform integrations
Most customers expect a company they're considering shopping with to have a social media presence and a website. And, the best fulfillment companies typically integrate with multiple sales platforms. Your 3PL provider should support your sales channels and create a custom API so every aspect of your business is connected. This ensures both you and your customers are not left searching for the sales information they need.
Inventory management
Inventory management is a top priority for successful fulfillment businesses. Monitoring your inventory is essential to track not only KPIs but also to meet customer expectations. Inventory management plays a huge role in maintaining customer loyalty. You want a 3PL that can get orders out accurately, on time, and on the first try.
Reducing the number of returns and risk of damage with every delivery proves to your customers that they can trust your business to deliver high-quality products and services. A 3PL that is an expert in order fulfillment can help you exceed expectations in this area.
Assistance from a 3PL is also essential for inventory stocking. Ordering items in the dark can hurt your bottom line and frustrate customers who see their favorite items are often out of stock. Partnering with a third-party provider can help you deliver the goods your customers need and offer less of what they don't. This creates a healthy experience for your customers, as well as your employees who are not forced to rush or panic when inventory is low or too high.
Freight shipping and receiving
Full truckload (FTL) and less than truckload (LTL) freight services can save you a lot of money on freight services. You could use freight to ship items between wholesale retailers or to warehouses and distribution points near your customers. Your 3PL can help you find the best deals and the right services for your shipping needs.
Pick, pack, and ship
As soon as a customer orders an item, their order information will be sent to your fulfillment warehouse. Warehouse staff will pick the item from the shelves, pack it, label the item with the proper information, and ship it. Along the way, the package will be quality checked for accuracy and shipping information. A 3PL can help automate this process by checking off each step digitally as the picker, packer, and shipper touch the package, up until it's given to the carrier when it's ready to go.
Reverse logistics
Sometimes an item, like shoes or clothing, is ordered and it is too small or large for the customer, meaning it must be sent back. Your returns policy and rate will naturally depend on how many items are shipped and the type of merchandise you sell. The reverse logistics process from your 3PL may include capabilities such as examining returned items for damage and processing, as well as collecting customer feedback and providing order reconciliation.
What sets SFG apart?
SFG is a full-service fulfillment provider that builds true partnerships with our partners so that we can grow together. SFG will work with you to select the right services for your business by understanding your processes, goals, and needs to make recommendations for your specific scenario.
SFG offers five main categories of service:
warehousing and distribution: SFG can take the burden off your team by providing inventory management, returns, postal operations, and shipping
ecommerce fulfillment: You can keep track of your orders, notify customers of fulfilled items, and streamline order management with our warehouse management and distribution processes
customer care: The customer care package can include a customer call center, and order processing with payment options and secure billing
payment processing: PCI compliant as a level 1 service provider, SFG delivers secure online payment processing, electronic depositing to your bank, and lockbox/caging in an audited environment
mailing services: Having access to direct mail marketing, invoicing and renewals, and print fulfillment means you can reach your customers no matter where they are located
We are an all-in-one provider for your supply chain management that can scale with you depending on your needs.
Our technology solutions can integrate with other systems for enriched marketing data and customer services that you can count on.
If you're ready to get ahead of your competition with a solutions provider that can accommodate your needs with a creative approach, reach out to an SFG representative today.