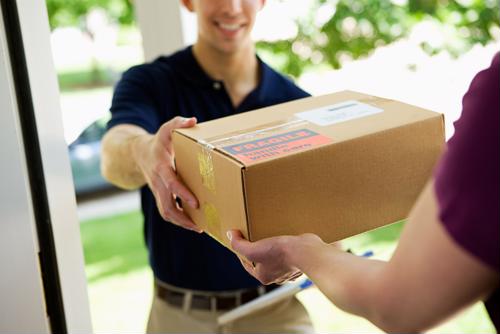 The order management system usually follows a similar pathway across all companies.
Customers who are interested in a product go to the webstore and place an order. The order is checked against a company's inventory, making sure that it is in stock and locates where the item is located. An employee finds the item, packages it and ships it off to the waiting customer. After the customer receives the item, the employee handles any trouble that might have happened in the shipping process and resolves any issues that may come up.
Rinse and repeat.
Aside from special circumstances, many online stores follow these basic steps to streamline their fulfillment process. Whether you're a small boutique shop selling designer labels or a major retail distributor, this formula has been proven to work.
However, while this process may be somewhat manageable for smaller webstores, others may want to look into order management outsourcing to optimize the process.
Let's walk through what order management outsourcing is and discuss why so many companies are using it for their business.
What is order management outsourcing?
In the simplest terms, management outsourcing takes the customer fulfillment process that was described earlier and outsources it to another company to handle. This hired company takes control of your order management process and uses their expertise to ensure that these steps run as smoothly as possible.
Why order management outsourcing?
The order management process can be a bit tedious and requires multiple steps.
One complete run-through of the system usually stretches from days to weeks from beginning to end. Multiply this by however many customers you may have and what seems like a simple process becomes exponentially more difficult.
For a business that is either starting out, receiving a large influx of orders or experiencing additional site traffic, it may be hard to focus on this process on top of other internal problems that may arise.
Still not sure if order management outsourcing is right for you? We've listed a few reasons why you should consider this as an option for your business.
Save time for the company
Designing a foolproof order management system is a science. It takes time to create a system that fits perfectly with the way your company is run and the type of product that you are selling.
This is a process that may take months — and possibly years to perfect.
For a new business, or one that is new to ecommerce, this could mean a severe lag in order fulfillment leading to a loss of revenue. It's also hard to account for everything that may go wrong with an inexperienced fulfillment team. Shipped packages can go missing, inventory can be misplaced and databases may be misused, which can quickly lead to chaos.
Outsourcing this process can be a lifeline for many companies — especially new ones that still need the time to figure out other components of their business.
Reduce risk in the fulfillment process
"Outsourced order management can process your orders smoothly."
New companies aren't exempt from providing customers with great service.
Consumers expect their orders to be shipped on time and for them to arrive in a timely manner. This could spell trouble for any company that does not have much experience with shipment organization.
By outsourcing your order management system, there's a better chance that each order will be processed and fulfilled smoothly for the consumer. Any problems that a customer may have with the product can also be solved by the outsourced company. Armed with years of experience, these companies have the knowledge and know-how to overcome any obstacles within the fulfillment process.
If a customer orders a tricky item to ship or has a complicated order, outsourced companies will know how to best handle the packaging and the best ways to ship them together. Not only is your customer happy that their product arrives undamaged, but you save your company the expense of replacing an item broken through transit.
Such companies also come with their own staff and their own sets of rules. This means that you can also save time and expenses on training and hiring new employees. Outsourcing these details to others saves you the stress of hiring multiple people for one such designated task.
Reduce the rate of shopping cart abandonment
Did you know that the average rate of shopping cart abandonment is 69.80%, according to a study by ecommerce researchers Baymard Institute?
This rate calculates the percentage of people who add something to their cart only to terminate their transaction before checking out.
There are a lot of reasons why a customer might decide not to go through with a transaction, but a variety of them could easily be solved through order management outsourcing.
Reasons like high shipping costs (49%), slow delivery (19%) and a complicated checkout process (18%) deter customers from going through with their purchase, Baymard Institute concluded.
Retain customers
With a plethora of online stores to choose from, customer retention is key to any business' success in the long run.
It may take a long time to build up a customer's loyalty, but it's difficult to get it back.
In fact, more than one-third of respondents said that they "don't consider themselves brand loyal until they've made five or more purchases from a brand," according to a survey conducted by Yotpo, a provider of integrated marketing solutions. Don't scare off a customer before they become familiar with your brand!
If you deliver damaged products or are extremely late to ship certain items, customers will remember that and shy away from your webstore the next time you have a sale.
Customer voices are also easily amplified through the power of social media — scaring off other potential customers who might have been thinking about using your services.
On the other hand, great shipping times and fulfillment could lead to repeat customers just as easily.
Gather customer data to improve your business
Whenever a customer makes a purchase, a general sketch of the customer is created in a database — drawing rough conclusions about the type of customer they are, their potential buying habits and what they like. However, even though many companies have access to this data, they do not know how to best use it to their advantage.
Order management firms are able to take that data and get results, giving your company further insights about the types of people who are likely to shop at your store. By extrapolating customer data, your business will be able to use this information to better your customers' shopping experience as well.
SFG has the answers
Here at SFG, we're dedicated to helping your business find its stride with our order management system, FlexOMS. Our software and fulfillment operations have led us to partner with countless firms whose audience base we've helped grow.
To learn more about our services and what to expect with order management outsourcing, visit our website and contact us today.