Why SFG?
Since our beginnings in the early 1980s, SFG has used innovation and a solutions-oriented approach to help our clients grow their audience base through one overriding principle: [a partnership approach is the only approach.]
This perspective enables us to help industries across a wide spectrum find solutions to their business operations and technology roadblocks. We're proud to say that once we partner with a business, that partnership tends to last: our client retention rate exceeds 95%. We promote a culture of quality that permeates everything we do, from systems integrations to data hygiene to customer interactions to shipping your product. It's a culture our clients appreciate and our employees embrace.
For those clients interested in doing ecommerce work, SFG is fully PCI compliant and SSAE18 audited. When you partner with us for online payment processing, your transactions are fully secure and compliant with all industry requirements. We offer the most secure data processing systems available.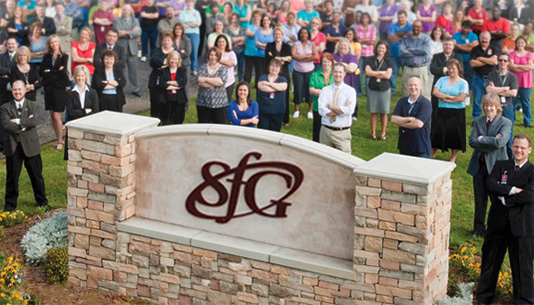 SFG is the partner you can trust with all the services you need, all under one roof. We strive to reflect your values and your passion. We're committed to treating your audience like you do.
Explore the services and solutions SFG can bring to your table, and discover the power of partnership
Contact Us
Say Hello to

[

Your New Team

]
Our partnership focus is embodied in each account management team. SFG provides each partner with a marketing account manager who acts as the single point of contact for all service needs, offering the highest level of service and ensuring that every situation is addressed and followed through to completion. Each SFG account manager is part of a team, which means even more experience is at your disposal.
Our uncommon partnership approach allows your SFG team to become an extension of your business. With our account management structure and level of support, we are able to access all of our extensive resources and combined knowledge to help your company achieve – or surpass – its goals.