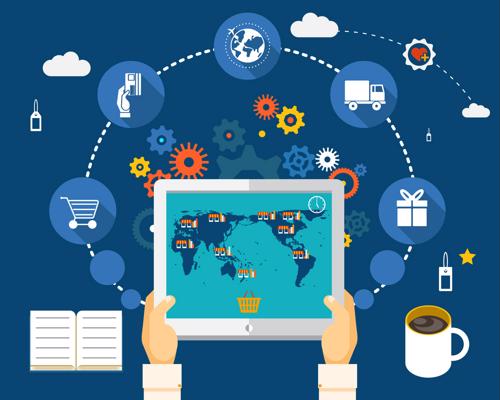 The number of new online shoppers reached almost 150 million in 2020, according to Shopify's 2021 annual report. That meant ecommerce business managers needed to be prepared for the influx of online purchases by increasing their products offered online and streamlining their shipping processes.
Businesses needed to stay on top of where their products were after getting shipped out, how many subscribers they maintained, and who in their supply chain needed more attention. One way retailers keep track is through a robust order management system (OMS).
Here, we'll go over what an OMS really is and help you determine if your business needs one.
What is an OMS?
An OMS is used by a variety of industries that assist companies with their order entry and processing. It is a vital part of a sales management process that follows the initial purchase order all the way through to customer delivery.
Understanding the full scope of an order's lifecycle can help businesses ensure that they manage customer expectations, improve customer loyalty, and meet demands more easily.
The OMS process
The order management process starts after a customer purchases an item. Then the order is sent to the merchant to accept and fulfill. It is then sent over to the fulfillment center to pack and ship the order to the customer.
If a customer decides to return or exchange the order, the OMS can take over this process as well. A great system will ask for feedback about the item to ensure the business can get a full understanding of the "why" behind a return and improve its inventory.
You can even connect with customers' feedback through multiple social media platforms as well. This peels back another layer of customer connection and response that can build long-term relationships and uncover more data to better improve your business.
Perfecting the order management process could take time and a lot of organization on the shoulders of managers. With an OMS, however, you can focus more on customer satisfaction and retail experience.
The OMS experience
Before the OMS knows about an order, the customer goes through a full journey. This journey starts as soon as they realize they have a need. They'll dive into research about the topic, talking to friends and experts until they identify that they want to pursue this need. As they sift through their options, they'll begin to narrow down exactly what they want in a purchasing experience such as shipping costs and the quality of the material. At this point, they've identified which businesses can fulfill these requirements, and then they'll make a purchase.
From here, the OMS and your supply chain take over.
Here is the full scope:
a customer puts in an order
the oms sends that order to the merchant
the merchant accepts the order
the purchased item is then sent to the fulfillment center
they package the customer's order
it's shipped from the warehouse to local distribution hubs
finally, it reaches the customer's doorstep
However, the fun stops there for neither the customer nor the supplier. The customer journey includes a follow-up step where the supplier ensures they are happy with the product. The OMS can automate client feedback via email or social media. This helps to secure the buyer as a long-term shopper by directly speaking to their concerns and offering more customer service.
How an OMS can help your business
Staring the ecommerce boom in the face in 2020 and watching it continue to climb in 2021, global markets have the potential to increase their revenue by $7.77 billion according to a survey done by Euromonitor. This potential lies in the ability to optimize your work order management.
Businesses that were not prepared for more orders in 2020 were met with frustrated customers who found that websites were not reporting accurate inventory levels or order delays.
With a practical OMS, these vital solutions can be automated. Instead of relying on basic spreadsheets or worse, clipboards and pens, you can streamline manual processes with inventory management software. With all of the data you need at your fingertips and one system of record, you can cut your effort in half.
Features of an OMS include:
Inventory management software: An OMS includes inventory visibility algorithms that can route orders to the appropriate warehouses or stores and offer the best shipping options. This management extends to shipping, picking, packing, and tracking.
Sales channels: An OMS consolidates information from all points of sale into one place.
Accounting integration: Streamlined accounting from your OMS can help you keep track of accounts receivable and payable.
Customer database: Growing your business includes knowing customer contact information and activity. This helps service reps recognize highly active shoppers and prioritize them as target customers.
Sales support: An accurate reading of your inventory availability should be updated in real-time for your customers, the services team, and your employees. This should include returns and backorders.
When you can streamline this vital part of your business into one system, your customers, employees, and stakeholders can invest in your company with more peace of mind. Customers will have more transparency in their purchase, employees will know when exactly to perform their jobs, and stakeholders will have a full understanding of how their money is being used and how much to expect to come in.
Benefits of an OMS
Having an OMS that helps identify bottlenecks along the supply chain can empower retailers to create process improvements right away. The transparency in system analytics can push employees to make changes in areas such as responding to customer feedback sooner. An OMS has even more benefits such as omnichannel tracking and subscription tracking.
Omnichannel fulfillment
An omnichannel system can help you track the order process and better understand which channel the customer order is coming from. Nine out of 10 customers want an omnichannel buying experience that includes easy communication across platforms, according to USA Today. If customers are researching products across channels, you need to make sure that you're tracking exactly where they decide to make their purchases — online and in stores.
Analysis tracking
Tracking for a business means more than just tracking the purchase — it involves tracking subscriptions, recurring payments, and forecasting as well.
Tracking subscriptions is an important part of understanding how well your business is attracting new customers and maintaining existing shoppers. Follow how many customers have canceled their subscriptions or unsubscribed. If you find you're losing more customers than you've gained, you can focus on strategies that help you retain the subscribers you have while attracting new customers with new marketing like discount offers.
Recurring payments or monthly recurring revenue (MRR) is your biggest indicator of expected income. However, some payments may be routed to a customer's canceled or maxed-out card. An OMS can help you identify which subscribers have missed payments who have not canceled their membership.
Forecasting income using an OMS can help you better predict sales by having enough inventory or making sure you don't over-purchase a particular item. If you choose to have your own merchant fulfillment strategy, you take full responsibility for the lifecycle of your inventory and shipping. The OMS can assist in these metrics and tracking.
Choosing the right OMS
Every business is different and should only take on an order management system that will fit its needs without overwhelming employees with data and features that they don't need.
Start by taking a look at your current order management system. Make note of what is already working and which areas could be improved. This can help you decide which OMS functions are absolutely necessary and which are nice to have.
As your business grows, however, these needs might change. You'll want to make sure your OMS is scalable. The system should be able to handle an increase in orders, customer information, new ordering channels, and social media platforms.
Team members should also be able to use the system without a long onboarding process. For example, your company is growing and that means new employees will be added. They may manage certain parts of the supply chain which now includes your OMS. The training process for new employees can be lengthy and can even affect employee retention. Make sure that the OMS is user-friendly so training is a breeze and won't cost you any more time than necessary.
While you take inventory of your management system as it is, take a look at how your OMS can integrate with systems already in place. This can help ensure that your management style is efficiently streamlined. This means integrating with:
omnichannel orders
credit card systems
shipments
returns processors
inventory management
invoicing
outbound customer engagement
When all of your systems "talk" to each other, everyone involved in the order — from your account team to your retailer — will be glad you chose the right OMS product.
Finally, you want to make sure that the OMS provider you invest in has excellent client service and support. Sometimes, not everything goes as planned or you have a question about a new upgrade. Customer care is just as important for you as it is for your shoppers.
Putting it together: Order management software in action
When it comes to your ecommerce business, you should have a full understanding of the bottlenecks in your distributed order management and where your products are being purchased.
A system like our FlexOMS™ can even give you a better omnichannel presence that can put you ahead of backorders and returns. It's a back-end operations management experience that was built to support purchases made through mediums such as:
computers
mobile
kiosk
in-store
Apps offer tracking software across multiple channels, order processing, order fulfillment, customer service, inventory management, customer data collection, and more.
With a multichannel approach, your business will be better positioned to meet customers' increasingly high demands and complex buying habits. You'll be able to support a broader experience, stay ahead of issues like backorders and returns, and provide unparalleled customer service with all the data you need at your fingertips.
When your OMS provides this much visibility into order processing, you can help everyone in the business across departments — from warehouse employees to C-suite executives — access what's happening in the business in real-time.
SFG can help make your customers' shopping experience as easy as possible while you scale your business. Check out one of our complete solutions like FlexOMS™ or contact us today to build a solution that works for you.