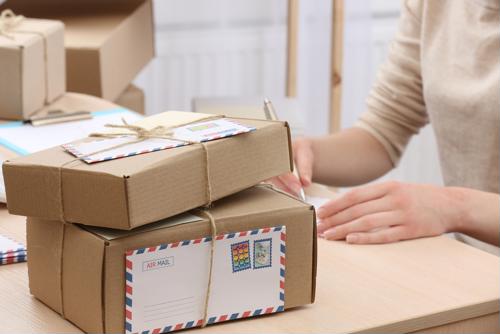 You've done the hard work of attracting a customer and guiding them through to subscribing to your products and purchasing a subscription. Not only did you create the perfect website with the content and images that got your customers interested, but your products are perfectly curated to their needs as well. Now that you've created an excellent customer experience so far, the best way to bring it all the way home is to present your product in the best way possible, with customized packaging.
Let's explore what it takes to build your brand, packaging, and delivery for the ultimate subscription box experience your customers will love.
Branding your subscription box
Building brand awareness about your product all starts with building a strong digital and online brand experience to support your subscription box service. Curating excitement and awareness for your company should be centered around customer trends.
Gen Z is a community of digital natives who have grown up knowing how to use technology. Sprout Social found that 66% say social media is a major part of their everyday life and their usage is only increasing every year. Subscription service retailers should offer online payment options as well as omnichannel connections among platforms where personalization is a major part of the online experience.
Millennials represent the highest number of online shopping users of the generation: 77% use a platform every day and consider it an essential part of their lives. Millennials are using social media to communicate with their families and friends, pass the time, and keep up with the latest trends. Brands can utilize this to create space for consumers to interact, leave comments, and offer advice about products known as building a brand community.
Neck-and-neck in terms of usage time, Gen X-ers adopted online shopping right alongside millennials. Because of this, 74% of survey respondents say social media is an essential part of their everyday life. For this generation, a lot of their online time is spent researching and comparing brands. These groups of people are considered some of the most loyal customers of a specific brand.
Create excitement through a tutorial on how to best use the product(s). Social media video marketing can go a long way with Gen X consumers and illustrate the value of your products.
Online shopping and social media have permeated every generation. Develop your subscription excitement strategy to target online shoppers of all ages. This could be in the form of an influencer doing an unboxing video, a forum to discuss product reviews and recommendations, or a simple space for shoppers to know what is in stock so they can order ahead to pick up later.
Your guide to subscription box packaging
Now that you've created awareness and excitement about your brand, you need to deliver a full experience with compelling packaging. Let's go over a few pieces to consider as you design your customers' perfect monthly subscription box.
Selecting a box style
The first place to start is deciding the box style that will provide optimal protective packaging. It should be something that can present your product in the best way possible.
Some ideas include:
rigid envelopes
custom mailer boxes
bubble mailers
shipping boxes
folding cartons
Your products will largely inform the type of package you'll need. Shipping boxes or a mailer box could accommodate larger or multiple items. Smaller items like stationery or jewelry offer more flexibility and can work with an envelope type. Consider how flexible, fragile, or large your items are to navigate this decision.
Choosing the right sized packaging
Similar to the shape and type of your box, the size will help protect your products from damage while in transit. The box size can also help you determine the cost of shipping your items, especially if you ship with the USPS which measures costs by size.
USPS measures the cost of shipping using the following formula, where the longest dimension cannot exceed 18-inches:
Length x Width x Height / 1728 = Cubic Feet Rate
If you're just getting started or launching a new line of products, here are the most common box sizes (in inches) according to a survey done by Subscription School:
8" x 8" x 4"
10" x 6" x 4"
9" x 6" x 3"
Understanding how your parcel delivery service measures and prices packages will help you properly predict shipping costs.
Creating a custom subscription box design
Printing a custom image for your box is where your branding can show through. The design should be aligned with your brand guidelines. Consider using colors that pop and give your custom packaging an eye-catching look.
There are a few ways you can develop custom subscription box packaging to create excitement when it reaches your customer's door. Digital printing is a common choice for small order quantities; the ink is applied directly to the box. Flexographic printing is the most popular method for printing. A printing plate stamps your design onto the box. Lithographic label printing offers clean, high-resolution designs that act like wallpaper for your custom box. Your design is printed onto a paper sheet, cut, and attached using an adhesive.
Customizing the outside of your box is especially important in creating excitement. Unboxing videos and reaching new audiences through word of mouth or social media images and videos from your customers can be a favorable outcome of designing a fun and interesting box..
Finding the right printer
When you're imagining your perfect box and what it will look like, including the size and shape, you'll want to partner with a printer that can not only deliver this style but the price you want as well. To get both, consider these three items:
price: have your size and quantity in mind before asking around for quotes on printing services.
turnaround time: how quickly can they produce a sample, make revisions, and the right packaging design? Your printer should be able to print, pack, and ship your box order in a time that does not negatively impact your fulfillment and delivery time.
location: considering how close or far your printer is located can help improve or impact your turnaround time and delivery costs.
How to use business intelligence to prioritize your delivery
Develop a plan to deliver your package that aligns with your budget, as well as your customers' requirements for fast delivery. The more information you have, the better flow and efficiency your supply chain will have when picking, packing, and shipping your boxes out on time. Integrating your order management with business intelligence, can help streamline operations, collect data, and create actionable insights.
You need an integrated system that can help with order management, warehousing, and distribution. SFG's all-in-one ecommerce solutions can:
track your orders
automatically notify customers with order confirmations and shipping messages
connect to major carriers
identify cost-effective shipping options
ship orders quickly and efficiently
Work on your business instead of constantly managing the details of your company by partnering with SFG. To learn more or to get started, contact our director of sales, Nancy White, today.