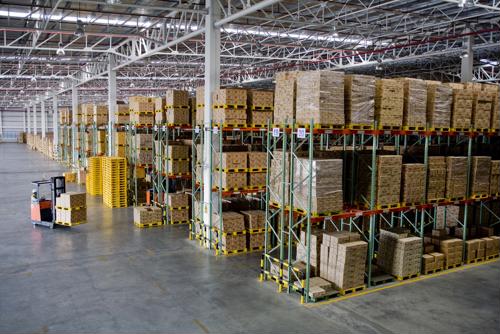 Notice that your business is growing and now you're looking for ways to expand without having to buy an entirely new space? A fulfillment warehouse is a space where you can store your inventory and hire a warehouse team to handle fulfillment operations for your clients. The fulfillment center will control all of the logistics involved in the order management process from picking and packaging to labeling and shipping.
Lean on this guide to help you decide if a fulfillment warehouse is right for your business.
Using a fulfillment warehouse for your order strategy
You may have heard of a distribution center and a fulfillment warehouse before, even interchangeably, when the topic of logistics and inventory management is concerned. However, depending on the use of each, they have very different meanings. While they are both large buildings where a retailer can hold its physical merchandise, the services they provide are different. Where you are in your business can help inform which one will work best for you.
Distribution center
A distribution center is a large space where inventory that is ready to be sold is stored. They are filled with aisles of shelves, each with a unique description, all loaded with pallets of inventory identified by a unique stock-keeping unit (SKU) number. A distribution center will also be stocked with forklifts to move items on and off the shelves when necessary.
You can use a distribution center depending on your needs. It's a great way to save money, time, and space while you manage the rest of your business.
A distribution center will not send your order out to your customers, however. Any shipments or new orders that need to go out will be fulfilled by your business. The concept is mainly to hold your inventory until you need it for an order.
Fulfillment warehouse
Similar to a distribution center, a fulfillment warehouse, or center, is a location where you can outsource your entire order fulfillment process. A fulfillment warehouse is a place where customer orders can be carried out once a request has been made on your ecommerce website. With a seamless order management system, you can connect your inventory to the notifications the fulfillment warehouse receives so they can carry out the order fulfillment without much necessary oversight from you.
Think of this process as a server at a restaurant adding in a customer order at the register, and a ticket prints out in the kitchen to make the meal. Then, a third staff member delivers the meal to the customer so the server can continue to take orders and check on their tables. With the right partner, you can package both the warehouse and the operations teams you need to carry out orders.
A fulfillment warehouse gives you the space to continue to do your job building the business without focusing on logistical details.
How a fulfillment warehouse works
If you're operating an ecommerce business, a fulfillment service relieves the need to hold all of your inventory yourself. This helps small businesses grow when they no longer have the capacity to directly manage its orders.
Fulfillment companies will handle all of the logistics of order management as long as you have a system set up that is robust enough to handle the speed of your operations.
As you search for the right solution, you'll want a warehousing tool that can communicate how much of an item is still available, which you have too much of, and a plan for tracking and returns. This helps with quality customer service ratings and overall enterprise organization.
With the right technology, your order management system will recognize an order has been placed, sending the information about the item to the warehouse. From there, the fulfillment company will pick, pack, label, and ship orders to the customer. Along the way, the system will alert the customer that their order is processing and send tracking information once the package has been scanned by the postal or delivery service.
Outsourcing fulfillment services can help manage these needs with dedicated staff whose job is to keep track of inventory and technological automation to help with the organization.
Location is key for fulfillment efficiencies
A well-located fulfillment center can also be a huge help in reducing the shipping cost and getting orders out to customers more quickly. You may even find a proper location that also provides better shipping rates overall. To choose the right site for a fulfillment warehouse, consider what you need in a warehouse space and where your customers are generally located. In most cases, a centralized location may be your best option.
You will also want to put together a fulfillment warehouse that aligns with the technology you need to conduct business. If your orders are not coming through to the warehouse, your entire organization could collapse.
Streamlining your order management
There are numerous benefits to choosing a fulfillment warehouse for your ecommerce business. From simplified organization to dedicated fulfillment staff, you can build a future with a fulfillment warehouse.
Additional benefits of a fulfillment center include:
implement flexible fulfillment: your business needs to be prepared for any changes in the market or consumer trends. A fulfillment center allows you to scale your business based on need, pivot your sales strategy and operate completely online without depending on a brick and mortar location to complete orders.
focus on bettering your business: instead of focusing on every detail of your fulfillment operation, you can get back to working on the business you created. Your center will handle everything to do with fulfillment warehouse services so you can develop your brand, marketing strategy, increase sales, and more.
strengthen your returns process: every ecommerce business has to deal with returns. Customers can return items to your fulfillment warehouse instead of your place of operations for easier order processing. Merchants can instead process the refund or request a new item for the customer instead of also needing to deal with the item itself.
SFG is the fulfillment partner you need
SFG is a full-service order management and fulfillment operations partner that can provide solutions for your fulfillment needs.
To learn more about our solutions, contact us today.