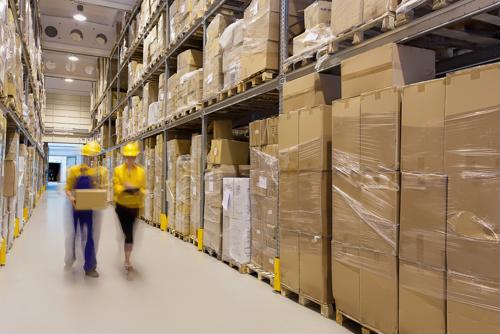 By now most consumers understand that their orders don't live in a silo. When someone enters an e-store and buys something online, there is an entire team of people and systems working to get their order out and delivered as soon as possible.
Because of lockdowns in 2020 and 2021, customers have become more comfortable with shopping online than they once were. In fact, the volume of online purchases has continued to increase by 6.8% in November 2021 from the same time the year prior according to Digital Commerce 360.
Getting your order management system aligned with demand and customer expectations is essential to succeed in eCommerce.
What is an order management system?
An order management system is designed to organize a business's customer orders and fulfillment. Whether your company is completely online, in-person, or a mix of the two, an order management system can help you understand the full scope of your business's inventory and order fulfillment process from the moment a customer completes an order to when it shows up at their door.
With that said, the order management process is not the same from one e-store to another. It's important to develop a workflow that will align with your business practices and order frequency.
An order management system could:
update inventory automatically as soon as an order is placed
send updates to customers on their orders
check accurate addresses and credit card information
streamline warehouse management
encrypt online payments safely
prompt customers for feedback
provide accurate tracking information
Tracking is an essential part of an order management system. Aligning customer expectations with delivery can make or break your business.
Once an order is placed, your order management system could send an email with tracking information or you could integrate branded automatic emails once the order has been shipped to keep the customer informed. With platforms such as Amazon providing quick and easy tracking information, businesses are forced to keep up with the trend of order transparency.
Order management technology that uses automation can help your business focus more on listening to customer feedback, researching the market, and improving your product rather than sweating over every number and address code. You may write a personalized email for a longtime customer or for an early adopter shortly after you launch your business, but taking this type of action for every customer who comes across your website can quickly put a halt on productivity and instead hurt your brand's reputation.
With a streamlined, automated order system, the potential for your business to grow becomes more apparent and tangible. Oftentimes small companies or startups can quickly get caught in the weeds of handling manual processes from managing written inventory checklists to personally sending out customer emails. Finding more ways you can automate workflows in your business, especially in your order management systems, the more quickly you can scale with efficiency and precision.
What are the first steps in the order management process?
There are several steps that need to take place to constitute a successful order management system. Each stage is essential to the customer's satisfaction as well as the business's well-being. While many OMS vendors oversimplify the workflow, there are six steps in a productive system:
The customer places an order: After navigating through your website and comparing prices, your prospect decides to become a customer by making a purchase.
Details sent to inventory: As soon as the customer added the item to their virtual cart, your system should have triggered your inventory management system. Once the customer selects 'complete purchase' the OMS should automatically alert your warehouse or store staff to check if that item is still in stock.
Order is accepted or denied: This stage occurs when an order is "processing." Once inventory is alerted of the purchase, staff or the system may realize that the item sold out just moments before the customer clicked buy, or that the credit card was not accepted. As soon as the order is accepted or denied, the customer should be notified via their preferred contact method so they can decide on the necessary next steps.
Order is packaged and shipped: After the purchase is accepted, warehouse employees will identify the item, package it, label the parcel, and ship it to the customer. This will trigger the creation of tracking information for the package for both the customer and the business.
Delivery to the customer: The customer should be able to track and predict the delivery of their package up to the point of arrival. The parcel should be intact and the item undamaged if it was packaged properly. The business should be notified when the item is delivered.
Customer can give feedback: This is an integral part of building a business and growing at a consistent rate. In a fully aligned order management system, the customer should have the opportunity to review their experience. In the digital age, this could take the form of a review on a website like Yelp or even an unboxing video live review.
You can theoretically gather a lot of information on your customers through studying what your competitors are doing, performing keyword research, and using AI customer profiling on data from website visits. However, the best way to know what your typical customer wants and how to improve your business is by getting feedback directly from them. They are the audience that is actually experiencing your website, shipment process, and product first hand and can provide helpful criticism.
Zendesk's 2021 blog highlights three reasons why customer feedback is important:
it helps build strong relationships with your customers
it lets you enhance your business, products, and services
it allows you to elevate the customer experience by improving internal processes
You can gather customer feedback at just about every point of the order process. By checking in at each step, you can begin to form a picture of what your customers are facing on their way to making a purchase. If a customer had a hard time navigating through your website or the item was damaged upon arrival, you can make changes that will create a better experience for your buyer.
A survey at the end of each step of the process is helpful but there are several other ways to collect customer feedback such as:
social media posts
product comments
sales success feedback
support tickets
The final step of your order management process should include returns. When talking about customer feedback, returns of items can tell most of the story. In retail, for example, a customer may have expected the item to look or fit differently than what is presented online. After a customer makes a return, you should offer a chance for them to leave feedback on why they are sending the product back and how the company can improve — as well as how to remedy the situation.
All of these steps can be handled over your work order management system if you choose a robust platform. The order management process can be very involved from order entry to order status updates and delivery. An automated system should be able to reduce the number of mistakes and returns and instead streamline order fulfillment and customer satisfaction.
Establishing a relationship with stakeholders
Achieving the best system is not possible if the stakeholders involved are not invested in the business as well. Retail has a multitude of business collaborators from material suppliers to preferred mailing providers. Establishing a relationship with your associates can help ensure your business is bringing in a steady flow of income and even help manage costs fluctuations.
A stakeholder is an individual or a group of people who have an interest in your organization. They could be employees, customers, or groups from another organization. It's important to profile each stakeholder group so that you know who to turn to in certain situations. You may be working with some shareholders who are big decision-makers for your business, such as those keeping an eye on what is currently trending in your industry. Take the time to communicate with each entity and understand their needs as a part of your business. These relationships play a huge role in the success of your organization and can become long-term enterprise associations.
Ideally, business collaborators have a space to coordinate information through each step of the purchase process from order placement to delivery. For example, your warehouse staff should be able to inform shipment management when an item is ready for delivery. Effective communication among stakeholders and especially between you and them is essential to a healthy supply chain.
An entity-relationship diagram (ERD) is a great way to clear up any confusion around where each stakeholder is in the ordering process. An ERD is a visual representation of each entity's relationship to the others. The order management process is complicated and involves a lot of hands, from picking and packing the right items to dispatch to delivery — an ERD can help stakeholders streamline their individual parts in the process.
As your business grows, you'll begin to realize that trust is the most important part of scaling your organization. Trust from your customers and stakeholders that your business is reliable, consistent, and able to follow through on promises will help build a relationship with each party.
A close relationship between your business and stakeholders can help streamline each step of your operations. If all parties are working together and you're informed about any bottlenecks, like low inventory on a stakeholder's part, you can more easily inform customers or find solutions before the problem creates a real issue.
Organization along every part of your order management process can facilitate better business growth.
How to optimize your order management
Using an order management system (OMS) can help optimize your program. If you've been working manually or with multiple, disjointed systems, finding an OMS that integrates with your processes can reduce manual process mistakes.
Inventory management software can elevate your customers' online experience as well. When the workflow is integrated with your inventory management process flow, your eCommerce business can communicate which items are low, which are sold out, and which are brand new without much manual input necessary.
Optimizing your order management solution can span into your multichannel order management as well. Also known as omnichannel sales, multichannel orders are those made across multiple mediums and touchpoints such as in person, on mobile, over the phone, and online. Streamlining this workflow can improve inventory flow and customer satisfaction. When a customer can put something in their digital cart and then call the company with a question about the item and complete the purchase over the phone, your reputation for knowing what your shoppers need could rise exponentially.
SFG has the tools to help check off your management boxes, including FlexOMS™. With a robust delivery system, you can relieve the stress of running a business and instead focus on growing it. Meet long-term goals with streamlined operations and a 360-degree perspective on customer satisfaction. Avoid egregious customer complaints when a product they want is out of stock or items sent back to the warehouse because of an unverified address.
With FlexOMS™, you can pick, pack and ship your inventory quickly and efficiently. If you're ready to elevate your workflow, contact us today to get started.