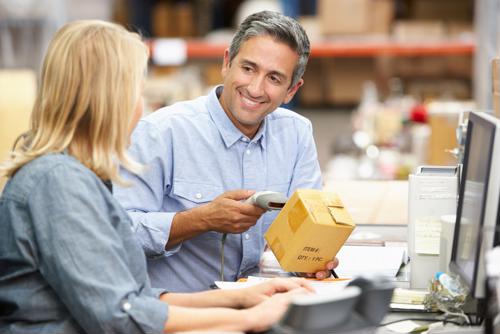 Due to the rise of ecommerce, companies have had to step up to meet consumer demand by offering a more robust shopping system for their customers.
Now that there are approximately 2.1 million online retailers that offer online shopping in the U.S., it's imperative to let your company's online customer experience (CX) stand out by providing a memorable, seamless shopping journey. This can be achieved through a number of different ways — from integrating your operations through a unified ecommerce system to adding omnichannel fulfillment options. Using a streamlined order management system can lead to happier, repeat customers and better organization on your company's backend.
However, many companies are falling short of providing the best CX possible. A recent survey conducted by Acquia found that only 10% of consumers strongly agree that most brands are "meeting their expectations for a good experience." Meanwhile, 82% of marketers believe that they are meeting customer expectations, highlighting the disconnect between the two parties. One way to bridge that gap is to upgrade your company's order management system.
Let's walk through a few strategies that you can deploy to offer the best CX possible through order management.
Use a unified commerce system to streamline operations
Unified commerce is an organizational strategy that joins together all of your backend data into one succinct platform or a piece of software for easy access. This is especially helpful in building a customer profile because it gives a singular view of a customer's interactions with your company.
By organizing orders using a unified commerce system, your retail software can provide you with a collective view of inventory counts and a summary of your total customer interactions. It can also help you keep track of where items are and any actions that your customers have taken regarding an order. If a customer buys an item online and returns it in store, for instance, an advanced unified commerce system can take note of each action. This can reduce the amount of confusion there is surrounding where an item is.
Furthermore, if a customer purchases an item online or through your mobile app, a unified commerce system can help you accurately suggest other items that they may be interested in buying. This extra data can help you build a better CX in the future using algorithms to provide a more individualized shopping experience.
Offer live inventory visibility for customers
Unified commerce takes the guesswork out of inventory management.
A possible boon of setting up a unified commerce system within your order management system is the ability for your customers to see live product inventory on your site.
If your order management system is fragmented into different applications, inventory numbers won't be updated in real time, which can lead to frustration from your customer and within your own company.
For example, a customer might decide to buy a t-shirt from your company. They log onto your website and find that the item that they want is at your company's closest brick-and-mortar location. Once they make the drive over and walk into the store, they are surprised and angry to find that the t-shirt was already sold out the day before but not updated on the site, wasting their time and gas. Because the customer could not see the live inventory count on the website, it led to an awkward interaction and a disappointed customer.
Don't let customers waste time hunting down inventory that is not there, or promise an item to a customer that you cannot fulfill. The extra time spent on dealing with an unhappy customer could be better spent doing other things.
By having an inventory count that is synced to all departments — from the frontend to the backend — your company will be able to avoid similar headaches.
Implement smart order routing
Thanks to giant online retailers like Amazon, customers now expect items ordered online to arrive within a quick, efficient timeframe. According to a survey by digital consultancy firm Avionos, modern day shoppers value fast shipping speed over other perks like a reasonable return policy, friendly customer reps and buy-online pickup in-store (BOPIS) options. Upgrading your order management system to offer smart order routing is one way to ensure that your customers can get their orders on time.
Smart order routing works by accounting for a company's inventory, locating it and then dictating how an order should get shipped out. A good order management system is optimizing these actions while still taking into account a customer's location, the number of items that need to be shipped and requested delivery date. For instance, if a customer orders an item from California and the closest warehouse that carries it is in Nevada, it wouldn't make sense to ship them that item from the New York warehouse because this would increase the shipping time.
Offer omnichannel fulfillment options
With the proliferation of omnichannel marketing as a strategy, it may also be wise to start thinking about how you can offer omnichannel fulfillment options as well. Sure, customers can purchase items from different platforms like mobile apps and your website, but the omnichannel experience doesn't have to end there.
With omnichannel fulfillment options, customers can select the most convenient way to receive an item. This may involve adding a BOPIS option, for example. By allowing a customer to pick up an item at their own convenience, it can save on shipping costs from the company and lessens the hassle of putting an item through the shipping process.
Another omnichannel fulfillment option is curbside pickup — an option that has become more and more popular with customers due to the pandemic. A study by Digital Commerce 360 found that nearly 44% of the Top 500 retailers with physical locations now offer curbside pickup, creating another convenient option for customers.
Allow customers the option of self-service
If your company handles the orders of thousands of customers, it may be difficult to give each of them the same amount of attention — there just aren't enough hours in the workday.
For customers with commonly asked questions regarding their orders, it can help to upgrade your order management system with a user interface your customers can use to solve simple requests. Many customers who order online will want to track where their order is, for example. A great order management system provides this information right at the customer's fingertips, allowing them to seek out answers without additional guidance. Even an added feature on your site like a frequently asked questions section can prove to be useful.
By giving your customers the power to help themselves, you'll be able to put less pressure on your customer service department and save all parties some valuable time.
SFG can upgrade your order management system
Are you looking for an order management system that can help bring your CX to the next level? SFG's FlexOMS system will help you streamline your operations and create a seamless customer experience.
Contact us today to learn more about why FlexOMS can be the solution for you.