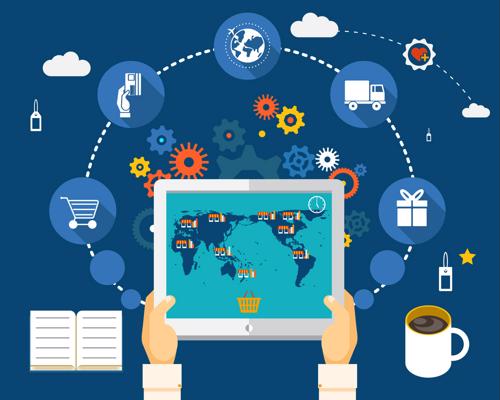 These days, operations and warehouse managers across the globe are not only aware of the fact that customer expectations are changing, they're also doing their best to keep up with these ever-growing demands. Now that consumers have so many channels and tools available to them right at their fingertips, they expect the same type of efficiency and transparency during the order status and fulfillment process.
Without the right technology in place, full visibility into the order fulfillment process – and the associated benefits that go along with it – are out of reach. Utilizing an advanced order management system can be a game changer, providing the best look at the order fulfillment process, as well as actionable areas for improvement.
Let's take a look at how OMS technology can bolster your organization's visibility into order fulfillment, and what benefits you can reap:
1) Keep customers in the loop
One of the biggest driving factors behind putting an OMS in place for order fulfillment visibility is enabling access to the details customers are looking for. In the past, companies could simply send a notification that the order had been received, and then move forward with the rest of the fulfillment and delivery process. Today, however, this single notification isn't enough.
Customers not only want to know that their order has been received – they also want to be notified when items have been boxed up and are ready to ship, when this shipment has actually taken place and when they can expect delivery. A company that can't provide this level of visibility to shoppers certainly isn't offering the best possible customer experience. On the other hand, a business that does continually notify consumers and ensures that they are constantly in the loop can boost overall satisfaction and increase the likelihood of future purchases.
"Enabling full visibility with a robust order management system can support order accuracy."
2) Support order accuracy
In addition to ensuring customers are always up to date on their order status, enabling full visibility with a robust order management system can also help support order accuracy. According to a Forrester study commissioned by the UPS, approximately 23 percent of all customer returns happen because shoppers received the wrong items.
Thankfully, helpful OMS technology can help prevent these types of inaccuracies within the warehouse, before items go through the shipping and customer delivery process. An advanced system can generate pick tickets and assist in accurate order packing, ensuring that customer orders always match up with delivered items.
3) Maintain proactive inventory levels
An innovative OMS that includes product availability and allocation tools can provide the best visibility during order fulfillment, ensuring that managers can use the most up-to-date information for inventory management. Reconciling current inventory levels with order fulfillment information can help managers proactively oversee inventory and reorder in-demand items as necessary. In this way, there are no delays or "out of stock" notifications necessary.
Today's businesses simply cannot function without granular visibility into the order fulfillment process, and technology like an advanced OMS is the best way to achieve this. To find out more about the benefits that a tool like this can provide and how it can support your order fulfillment, connect with one of our expert SFG consultants.