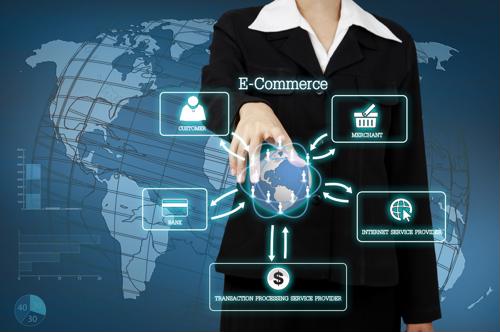 Last year, ecommerce sales grew 15% in the U.S., with American consumers spending more than $517 billion collectively on online transactions.
As more organizations look to break into or cement their status in the ever-growing ecommerce market place, there are a few essentials they need for success. An intuitive and user-friendly website is a main consideration, as is a robust supply chain to enable order fulfillment.
But there is one critical piece of technology that forms the bridge between companies' websites and their supply chain: an order management system. An OMS is a must-have for any brand that does business online, and it's important that stakeholders understand how this technology can make a difference for their ecommerce organization.
1) Streamline order management for customers
Today, the vast majority of American consumers have made at least one online purchase in their lifetime – including 96% of U.S. customers overall, 80% of which completed an online transaction within the last month, according to Disruptive Advertising.
With this increasing popularity, shoppers are growing used to the traditional online cart and checkout setup, where they select their items, enter their shipping address and payment information, and the transaction is authorized online. Keeping this process consistent is critical for ecommerce brands, as any deviation here can lead to frustration among consumers, abandoned carts and missed opportunities.
Luckily, a robust OMS can enable all the typical processes that customers expect during checkout, and can even take things a step further with address standardization and correction where needed, automatic calculation of sales tax, and notification emails for customers when their orders are shipped.
2) Support consistency in the warehouse
As Pronto Marketing pointed out, it's not just the customer experience that ecommerce brands need to be aware of with their backend order management systems. A lack of consistency in order processing can also be a burden on warehouse staff and other supply chain vendors.
"[S]uppliers also experience their share of trouble," Pronto Marketing stated. "Whether its taking orders from various sales channels to keeping warehouses inventories updated, they've got a lot on their place…Order management systems (OMS) can make the ordering of goods and services a breeze."
"It's important that all channels are properly integrated and orders streamlined."
3) Enable omnichannel strategy
An industry-leading OMS is also a crucial element for supporting a successful omnichannel strategy, ensuring that all channels are properly integrated and orders streamlined.
This approach can prove to be particularly profitable for businesses. After shifting its big box strategy to incorporate more digital channels, Macy's discovered that its omnichannel customers were eight times more valuable than shoppers that only used a single channel.
4) Software usability perks
A powerful OMS will come with other essential features and capabilities that can make a big difference for managing ecommerce brand success, including:
Encrypted order inflow to improve order management and data security.
Product availability and allocation, as well as inventory reduction for supply chain accuracy.
Customer support, returns processes and outbound customer engagement.
To find out more, check out our blog and connect with us at SFG today.