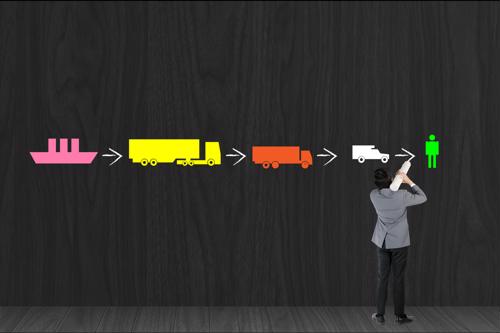 When you put pressure on your supply chain, the cracks will start to show. Amid the holiday rush, when systems and staff are pushed to their limits, inefficiencies become glaring problems holding back your business. The dawn of a new decade presents the opportunity to reassess and improve your processes.
Supply chain efficiency is a measure of the amount of work performed compared to the amount of energy and resources dedicated to getting that work done. It's a ratio of your input and output. At the start of 2020, this should be one of your top priorities.
"Supply chain efficiency is a ratio of your input and output."
A highly efficient system gets a lot done with very little effort. If you're operating under an inefficient system, your team and tools have to work overtime just to get by.
To boost efficiency, focus on streamlining your input. Process standardization and automation are key, but increased visibility and real-time data analytics are just as important.
Here are six things you'll need to improve supply chain efficiency in 2020:
1. Clear goals
Don't forget the big picture when planning your way forward. A study conducted by the Business Continuity Institute (BCI) found that nearly two-thirds of businesses aren't monitoring supply chain performance. It's crucial to use data analytics to uncover pain points and bottlenecks at the outset. Then, get all constituents and efforts aligned around key goals and metrics so everything moves in the right direction.
2. Comprehensive training program
After establishing your business' big-picture efficiency objectives and values, get more granular by investing in your workforce at every step of the supply chain. Develop an extensive training program for each link along the supply chain. Incentivize staff to meet productivity benchmarks and empower individuals to take advantage of the tools and resources at their disposal.
3. Transparency
From point-of-origin to point-of-consumption, all stakeholders should have a high level of visibility — but in the BCI survey, 69% of respondents were in the dark. Manufacturers, vendors and end-users have different needs and these evolve over time. Keep up with a flexible order management system (OMS) that provides real-time insights and automated updates while capturing the entire process in one place.
4. Streamlined payment processing
Use an OMS that authorizes credit card payments, calculates shipping costs and sales tax, and standardizes billing and shipping addresses. Not only will these features boost efficiency in your accounts department, but the fast, transparent process will also streamline the user experience.
5. Real-time inventory management
Industry data reveals that 43% of small businesses don't track inventory or rely on manual processes. But clunky spreadsheets and clipboards aren't up to the demanding complexity and pace of ecommerce. Choose an OMS with robust inventory management capabilities like product allocation, automatic purchasing and backorder release.
6. Efficient returns system
In the most efficient supply chains, the returns process isn't an afterthought. The right software solution will empower you and your team to promptly process returns and ship out replacements. Simultaneously, the platform should collect feedback so you can address customer dissatisfaction and product issues straight away.
While focusing on improving supply chain efficiency, you're also adding value upstream and downstream. Find out how FlexOMS can boost your ROI in the new year.