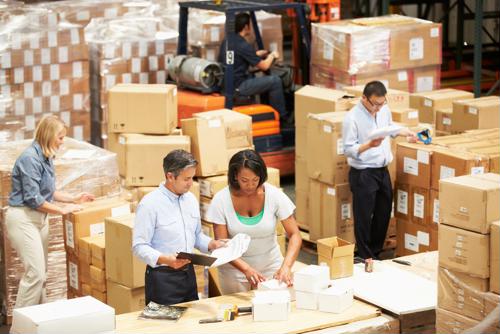 Accurate and efficient inventory management is something that many organizations struggle with. Considering that this is just one part of the overarching order fulfillment process, any hangups during inventory management can spell disaster for the rest of fulfillment operations.
According to statistics gathered by Dreamwise Marketing, supply chain management, including inventory oversight and beyond, represents a key challenge for distribution operations of all sizes:
Overall, 7% of companies don't have any inventory tracking capabilities at all, and another 24% use a static spreadsheet.
Many organizations have more inventory on hand than ever before – average inventory on hand rose by more than 8% in the last five years, compounding management and fulfillment struggles.
Inaccurate and error-prone inventory and order management is one of the top reasons that today's distribution startups fail.
In this environment, businesses need a solution that can help them quell these pain points while supporting their improved efficiency and company growth. The answer is to leverage an advanced order management system (OMS) that can enable certain, key benefits.
"An innovative OMS comes with intelligent features like product availability and allocation."
Product availability, allocation and inventory reduction
As noted, managing the necessary inventory to fulfill customer orders represent a top obstacle for many organizations. However, an innovative OMS comes with intelligent features like product availability and allocation, which enable warehouse employees and stakeholders to check that inventory is in-stock. Users can also flag any unavailable goods, reorder products that are low on stock or release backorders, when necessary. In this way, inventory management becomes much more efficient.
Building on product availability and allocation features is the OMS inventory reduction capability. This software element ensures that inventory numbers are always accurate by scanning completed orders and automatically reducing item quantities according to shipping manifests.
These features help prevent any out-of-stock notices while ensuring that orders can be fulfilled as efficiently as possible. In addition, when orders are able to be fulfilled quickly and seamlessly, without the need for an out-of-stock notification, businesses can support stronger relationships with customer recipients.
Improved customer-focused capabilities drive loyalty and repeat purchases
In the current order fulfillment landscape, customers are more demanding than ever and want granular visibility into every step of the process. An OMS can help organizations provide this visibility while enabling a better customer experience.
An advanced OMS includes a key focus on the customer, through features like:
Powerful customer database management, providing a bird's-eye-view of activity throughout the customer lifecycle.
Address standardization and correction to ensure that orders always reach their intended destination.
Streamlined credit card authorization to support a simple and secure transaction process.
Order shipment notification email so customers know when their order has left the warehouse, as well as its estimated delivery date.
And with robust customer support and easy returns processing, organizations can ensure that their clients are always happy. What's more, providing this level of customer experience throughout the fulfillment process helps breed loyalty and can even encourage repeat purchases from top shoppers.
An OMS is a beneficial way for businesses to relieve any stress or frustration that may come with customer orders and deliveries. However, not all OMS options are one in the same – our industry leading FlexOMS provides features we've described here, and then some. Connect with us today to learn more.