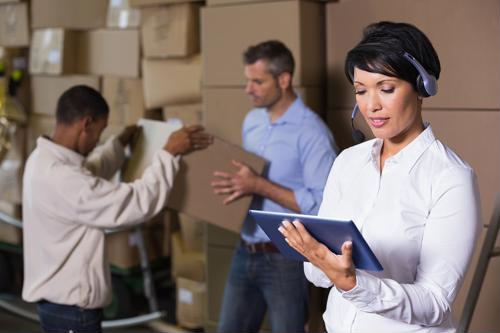 Gartner defines warehouse management as "a software application that helps manage the operations of a warehouse or distribution center."
Managing a warehouse involves not only the employees who stock, pull, pack, and ship items, but also the technologies that track their progress. The systems that make up successful warehouse management include scanning barcodes, incorporating mobile devices, and integrating with a digital management system.
Within this meticulous system, there are numerous moving parts to consider. Management must work with sophisticated technology and be calm under pressure. Let's take a closer look at how to successfully manage a warehouse.
Issues facing warehouse management now
In addition to transferring goods to and from the warehouse, employees must plan around storage, supply, and control of the inventory itself. Properly managing the warehouse can help in lowering costs to maintain the space, saving time on training and looking for inventory, and increasing both income and customer satisfaction.
Challenges facing warehouse management today include:
Lack of space: Failing to account for the level of inventory you have coming in versus what is going out can quickly halt productivity around a warehouse. This can result in work accidents, wasted time searching for items, and the potential for a lack of relevant, in-demand merchandise.
Inaccurate inventory connectivity: Warehousing items involves knowing where the inventory came from, who manufactured it, where it's being shipped, and who was in charge of its delivery. An outdated inventory system can result in missing, miscounted, or underestimated inventory.
Excessive stock: This is a typical issue facing warehousing. Management may miscount or predict incorrectly how much inventory they need and end up ordering much more than necessary — hurting spending margins and overwhelming employees.
Improper time management: Not knowing the exact location of products can lead to reduced productivity and increased deployment times, thus delaying the entire supply chain. Efficiencies around the warehouse, such as quickly finding the items needed, can help employees manage their time more effectively.
Damaged products: Improper handling or simple accidents around the warehouse can result in costs for management. These issues are more likely to occur if the space is not well lit, the item was not stored properly, or the area was not clean and dry.
Understaffed and unprepared: Seasonal factors and the economy can contribute to the volatility of demand. Without an accurate forecasting system in place, your employees could be caught by surprise. This can result in a loss of sales and stressed-out staff.
Poor training: Your employees are the backbone and livelihood of your business. Without proper training, however, they can also be the anchor that pulls you down. An untrained warehouse staff member can delay the entire supply chain and create incredible delays. Training must be emphasized in every department, from stocking to delivery.
Any one of these inefficiencies can hurt your business and the delivery flow. Although there is a lot to manage, there are ways to improve your management style as well as warehousing outcomes.
Steps you can take to improve
A July 2021 Gartner report described nine strategies for aligning your warehouse management systems to be more sophisticated and consistently operational, despite any potential complexities.
The consulting firm highlighted several qualities of a warehouse that highlight changes in the market:
multitenant cloud solutions built on a composable microservices architecture
work planning and optimization
usability, user experience, more consumer-grade look and feel
labor management and planning
robot integration strategy and capabilities
reducing implementation burden by leveraging technology within the WMS
supervisory workforce engagement and support
These modifications can refine your warehouse operations to be more efficient and streamlined. Deciding on a strategy to operate your warehouse at full capacity will help organize your employees, decrease costs, and improve profits.
One especially important need in terms of optimizing your warehouse is creating a line of decisions for your employees. That means every employee knows what their job is, how the related technology works, and what to do if one part of the system fails. There are many challenges that warehouse management will face, but a clearly defined order of operations can be a fail-safe for many of them.
At SFG, we understand that there are certain common pain points like these that can arise. As an outsourced service provider, SFG has solutions to help alleviate the stress of managing these processes and instead shift your focus to growing your business! To learn more about how SFG can support your warehouse needs and help grow your business over time, reach out to an SFG professional today.