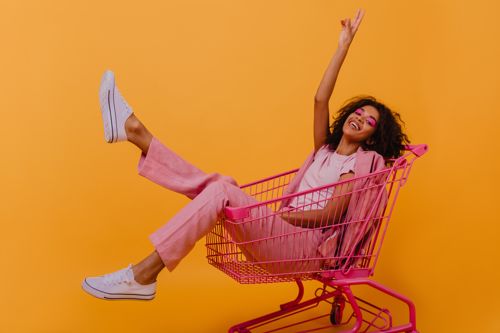 Taking a digital-first approach and moving to a direct-to-consumer model can seem like a difficult and laborious transition for companies operating under legacy retail processes. However, the many benefits of the DTC model make a compelling case for the switch:
1. Cost savings
Moving to a direct-to-consumer model is a smart strategy for decreasing overhead costs. Retailers following this model have a lot more flexibility in terms of operational costs and logistics, pricing structures and other considerations.
Deloitte's "Going Digital, Going Direct" report noted that the DTC model removes a variety of financial hurdles, from negotiating prices and sharing profits with retailers to trying to out-spend competing brands for greater visibility in the retail environment.
Having the agility to select the most affordable and effective choices can offer substantial savings and boost your profit margins.
"Nearly half (48%) of consumers shop with direct-to-consumer brands."
2. Brand resonance
Many leading DTC brands have made names for themselves by offering everyday products that are more affordable, more sustainable or simply more exciting than those found in traditional retail settings.
A 2019 study by the Interactive Advertising Bureau (IAB) found that roughly half (48%) of consumers shop with direct-to-consumer brands — and that these consumers are twice as likely to support brands that help them express themselves.
By adopting a DTC model, you can cultivate an authentic, values-driven brand that truly resonates with buyers.
3. Disintermediation
Selling through a marketplace or retailer can mean your brand identity is eclipsed while you incur greater costs — and your customers face higher markups. Removing intermediaries and selling your products directly to consumers means you can bypass wholesalers, distributors and other middlemen that may hinder your growth and get in the way of building a loyal customer base.
4. Increased personalization
Through a DTC model, your business owns your customer relationships and consumer data. This means you can focus on creating a personalized customer experience, complete with curated product selections, subscription-based offerings and tailored communications.
These efforts can help companies reach and retain customers more effectively. Research from Epsilon found that 4 in 5 consumers were more likely to buy from a brand that provided personalized offerings and experiences, while an Accenture report stated that roughly 9 in 10 shoppers would buy from brands that could "recognize, remember, and provide relevant offers and recommendations."
5. Greater control
Rather than feeling stuck with legacy systems, moving to a direct-to-consumer model allows your business to optimize your order management processes and supply chain logistics.
For instance, you can embrace a headless ecommerce architecture and select an experienced partner like SFG for your warehousing and distribution needs. This will give you greater control over how your orders are packaged and delivered, how and when your customers are notified of order updates and more.
The experts at SFG can support your business as you make the shift to direct-to-consumer sales. Connect with us today to find out how.