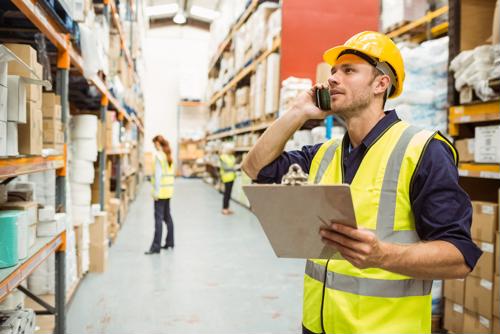 Whether you're just entering the ecommerce arena or you're seeking to improve business operations as an established e-tailer, choosing a trusted partner for order fulfillment and distribution is critical. But would a marketplace fulfillment center or a distribution center be more suitable based on your needs?
Let's take a look at the main similarities and differences between using marketplace fulfillment center vs. distribution center services, highlighting why a company might want to work with one or the other.
Marketplace fulfillment center: Pros and cons
A marketplace fulfillment center like those operated through Fulfillment by Amazon (FBA) can be a good solution for sellers who want to get their products out to customers far and wide as quickly and simply as possible. Much of this has to do with strategic warehouse and fulfillment center locations, which may result in lower shipping costs and faster delivery. Teams can also expediently pick, pack and ship while accommodating high order volumes.
But there are some sacrifices for this type of service. If you sell a product through FBA, it will be a mere drop in an ocean of others. There's no opportunity to add a personal touch to your product, and you're reliant on the fulfillment center to do an acceptable job with shipping and handling. As with FBA, customers are generally more aware of the third-party provider's brand rather than your own, especially when they purchase their products through the marketplace's website and see its branded packaging.
Distribution center: Pros and cons
Choosing a distribution center allows you to take advantage of more comprehensive business solutions. Rather than existing as a third-party entity that essentially takes over an important step of the process, a distribution center operates as a true business partner and serves as a bridge between the buyer and seller. It's not as rapid-fire in approach, which may result in slightly longer shipping timeframes and higher service costs. But in many cases, a distribution center can be just as efficient as a marketplace fulfillment center, but with different priorities.
"When processing orders through a distribution center, your brand remains front and center."
Depending on the distribution center you partner with, they may provide warehousing capabilities or they may be responsible for receiving goods and shipping them to customers. Either way, the customer will purchase products from your website and won't be aware of the presence of this behind-the-scenes service provider. Your brand remains front and center. And, as a result of having a solid relationship with the company shipping and handling your products, you will have much more control over how items are managed and can ensure that more care and attention goes into each order.
Often, such a partner can support other business needs, including direct mail marketing, customer relationship management, and order tracking. Companies like SFG even offer sophisticated, end-to-end software solutions that support scalability. With automated data collection capabilities, you can easily collect and analyze data related to the movement of your products and the customer experience.
In conclusion
What the marketplace fulfillment center vs. distribution center comparison boils down to is that a marketplace fulfillment center can offer speedy but hands-off service, whereas a full-service distribution center can provide customized, behind-the-scenes support as well as more comprehensive business solutions.
If the latter seems right for you, contact SFG to learn more about our ecommerce solutions, from warehousing and distribution services to our flexible order management system.