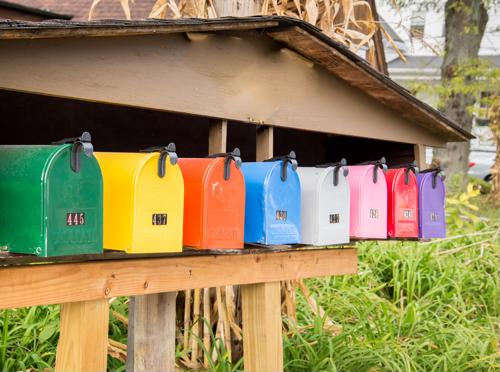 Direct mail marketing is one of the oldest marketing strategies around. In the internet age — where customers are bombarded with emails, ads, social media posts and other digital content waiting to catch their attention for a split second — a tangible mailer has the power to stand out.
To get the most out of your next mailer, consider these tips and strategies for executing a successful direct mail marketing campaign today.
Give recipients something to talk about
While email marketing messages have a two-second lifespan, direct mailers have a 17-day shelf life, according to a recent industry survey from Murphy Research. Importantly, physical mail reaches an entire household, so it naturally sparks buying conversations.
The same survey revealed that:
Three in four recipients will discuss mailers that come from businesses they've purchased from before.
One in two recipients will bring up the mailer in conversation if it comes from a brand they are familiar with but that they haven't purchased from yet.
Two in three recipients will talk about mailers that come from unfamiliar brands if they represent a product or service category of interest.
"Two in three recipients talk about mailers from intriguing but unfamiliar brands."
Marketers should keep this in mind when developing the messaging and intent of their direct mail campaign. Consider what would make customers pause and engage with the mailer — enough that they'd want to bring it up in conversation later.
Additionally, target your promotional offers around purchasing decisions your customers might bring up with other members of the household. In another industry study, a direct-mail-only campaign generated about five times the spend per customer as an email-only campaign, suggesting that direct mail marketing can spur on higher-value purchases.
Stick with streamlined visuals and storytelling
Ecommerce companies have heartily embraced the direct mail strategy in recent years — and have added their own flair to time-tested products like brochures, coupons and flyers.
Vox explained that this new approach to direct mail marketing calls for Instagram-inspired images and sleek graphics telling a single, cohesive story. Densely packed mailers trying to communicate dozens of deals or marketing pitches at once might make a lot of noise, but they don't get their message across as clearly or successfully.
Compared to the significant number of new emails and social media posts people see, today's consumers receive very few pieces of physical mail each day. This means a well-designed mailer from an intriguing or already-familiar brand can really resonate with the recipient.
Simplify campaign logistics with the help of an experienced partner
Compared to firing off an email from your business account, there's a bit more legwork involved in getting a direct mail marketing campaign off the ground. Choose an experienced partner like SFG to handle everything from choosing the right mailer format to securing the best postage rates and ensuring expedient delivery to the right addresses.
Connect with us at SFG to learn more about our direct mail marketing services today.