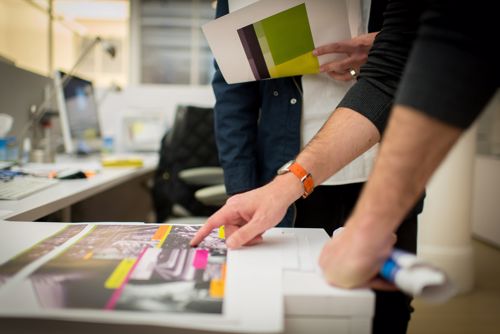 So you hit on a winning direct mail marketing idea or print subscription concept. Soon enough, you'll want to get it out on paper and shipped off to your recipients' mailboxes. This part of the process is known as literature fulfillment. It involves quite a few important steps, from formatting, printing, packaging, storing, and addressing to ultimately mailing and delivering your marketing collateral.
Without the right tools and expertise, attempting to manage literature fulfillment in-house often ends up revealing more pain points than positive ROI. Here are a few reasons why you might benefit from partnering with a trusted service provider instead.
1. Experts will ensure mailers reach your audience without any hiccups
Launching a direct mail marketing campaign or print subscription isn't as simple as sending out a postcard from your favorite holiday destination. If you're new to mass mail and literature fulfillment, you might find this out the hard way an end up spending excess time and money simply trying to get it right.
By partnering with a team of literature fulfillment experts, you can ensure that your message gets delivered. Rather than attempting to navigate the complex logistics related to sending out mass mailers yourself, take advantage of the expertise of a third-party agency. They can take care of everything from obtaining the correct permit to choosing the right mail piece format and design, making sure that everything complies with the U.S. Postal Service's mailing collateral design guidelines.
2. Outsourcing allows creative teams to focus on crafting the perfect message
If you have a skilled team of marketers and other creatives at your disposal, why fill up their to-do list with literature fulfillment concerns when they could be strategically building and analyzing campaigns and print subscription collateral for your brand? By outsourcing the nitty-gritty details, your marketing, editorial and design departments can do what they do best.
With a reliable partner there to address fulfillment needs, your creative staff will have more bandwidth to focus on important components of your campaign, such as developing a message tailored to your audience persona, embedding trackable elements and other mass mailer best practices.
3. You'll save money on equipment, shipping, labor and more
Whether you've brainstormed a fairly simple mailer or an ambitious campaign, bringing it to life may require sophisticated (read: expensive) printing equipment and other machinery that can collate, fold and assemble your collateral. If you're handling these activities in-house, you'll also need to cover the costs of space, labor and shipping.
Handing off literature fulfillment to an experienced service provider gives your company access to all the space, staff and equipment your next project calls for. You can create bigger and better mail pieces like glossy brochures and magazines at a competitive price. Additionally, you'll be able to take advantage of lower shipping rates available through a literature fulfillment service provider.
Discover the advantages of outsourcing literature fulfillment to SFG
If you've experienced some of the aforementioned pain points and need a better solution, SFG can help. Learn more about SFG's mailing services and connect with our team of specialists to find out how we can support your literature fulfillment needs.