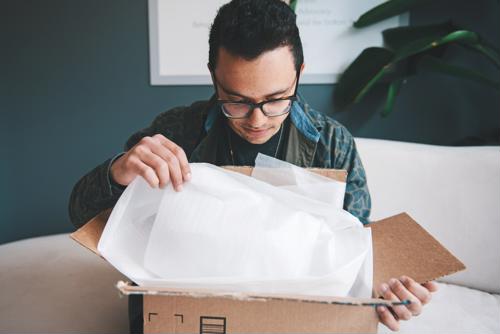 For ecommerce retailers, fulfillment is both a major opportunity and a constant challenge. Consumers are growing increasingly accustomed to receiving almost any product they could desire with delivery that's not only fast, but also cheap or free. That means organizations capable of getting customers the items they want as fast as possible have a huge advantage.
To achieve long-term growth in this environment, a retailer must establish a scalable ecommerce fulfillment strategy. The right tools and resources make it possible to get packages to customers with speed and agility. By working with an experienced partner, retailers can make reliable fulfillment the basis for building lasting relationships and continued expansion.
1. Streamline shipping with an order management system
"Visibility and clear communication keep processes moving smoothly."
In any organization, visibility and clear communication are essential to keep processes moving smoothly. Implementing a powerful order management system is one way to make fulfillment more efficient and transparent. With key data on inventory and shipping readily available, organizations are able to accelerate the operations involved in receiving and processing orders.
A unified relational database connects ecommerce businesses with all the information they need to offer top-quality service and stay in touch with customers throughout fulfillment. An encrypted inflow system allows real-time order management, and a utility for correcting addresses heads off a common source of errors that can otherwise slow delivery. The inventory management component checks the availability of products and appropriately allocates items, while the system calculates shipping costs and taxes to provide users with an accurate estimate of their total.
2. Work with a warehousing and distribution partner
The warehouses of today's ecommerce leaders are marvels of efficiency and automation. High-tech approaches to picking and packaging items enable these advanced fulfillment operations to get products loaded onto trucks and on their way to customers at an ever-faster clip. Smaller companies are at a disadvantage when it comes to warehousing, which is why many collaborate with outside partners.
By outsourcing warehousing and distribution, even new players on the ecommerce scene can benefit from economies of scale. Early on, these organizations are often able to manage a small number of orders with in-house staff. However, as a company grows and needs to ship more packages routinely, a partner with advanced facilities and a staff of experienced personnel keeps fulfillment on track.
3. Take advantage of relationships with carriers
Getting the best rates and fastest service from carriers takes constant attention and established connections. A partner capable of finding the right shipping solutions to meet your organization's needs and obtaining volume-based discounts can be a big help in keeping expenses under control while offering options for same- or next-day delivery. Further, customers now expect free returns with timely processing, a complicated undertaking that involves providing the materials for shipping as well as covering the costs.
For ecommerce businesses looking to step up their fulfillment operations, SFG has the right combination of software solutions, warehousing facilities and shipping know-how to achieve optimal speed and reliability. With a knowledgeable, experienced partner, organizations can compete in a high-speed retail landscape and ready themselves to grow over time.