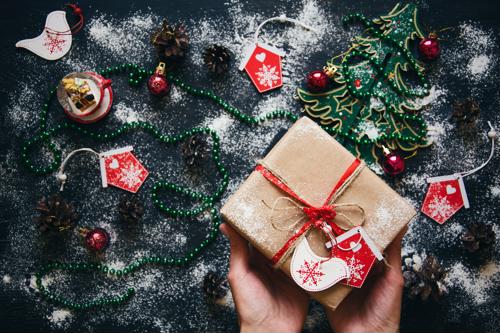 The National Retail Federation predicts that, during the 2019 winter holidays, consumers will spend 34% more than they did 10 years ago.
Each person will spend roughly $1,050 on gifts, seasonal treats and decorations; this is up 4% from last year's holiday spending. To get that extra slice of the budget, retailers and e-tailers compete to create the most appealing and unique experience.
Here are four ways to give your subscription box a seasonal spin.
1. Start with a festive color scheme
You don't have to stick with the traditional red-and-green or blue-and-white holiday palettes. Instead, start with your brand colors so that your products feel familiar, and heighten them in a holiday-inspired way.
Consider using deeper jewel tones or frosty pastels for a luxe look and feel, or opt for bright, cheerful hues and seasonal imagery for lighthearted winter fun. Use similar designs and motifs across the rest of your marketing, too.
2. Package products in a holiday-themed gift box
You don't have to break the bank with a totally custom solution this holiday season. Try affordable methods like festive labels and digitally-printed boxes that don't require tailor-made printing plates.
Develop packaging that doubles as a gift box so a gift-giver's work is done. Add a contrasting color and graphic design on the inside of the box, too, for an extra dose of wintery magic.
3. Create an elegant unboxing experience
Presentation should be a top priority for your holiday-themed subscription box. It's essential to give customers the aesthetic, tactile experiences they're missing by staying out of the stores. Moreover, thoughtfully-designed wrapping within the box will make the products inside seem all the more intentional and curated.
Use seasonal tissue paper and ribbon, or a sprig of tinsel or faux winter greenery to elevate the unboxing experience. These little details will put looks of surprise and delight on loved ones' faces and make the holiday season really special.
4. Throw in a little something extra
Slip some seasonal stickers, a holiday card, trial products, edible treats or an ornament into your subscription box. Or, include a free sample-sized gift that's aligned with your consumers' interests and your niche.
Think of your subscription box as a stocking — stuff it with little trinkets and treats that will impress loyal fans and new customers alike.
Setting up for seasonal success
Constructing the perfect holiday-themed subscription box takes a lot of time and attention. But the right tools can make your holiday-elf efforts a little easier.
A flexible order management system can help your subscription box business beat the holiday rush. Features like credit card authorization, address standardization, shipping notifications and customer support help build a positive customer experience even before your holiday-themed box arrives on the doorstep.
To see how SFG's FlexOMS can help you stay ahead during the season of giving, contact a specialist today.