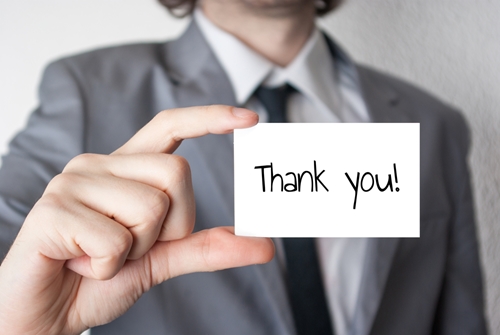 Since they don't get to interact with their customers face to face, ecommerce retailers rely on the relationships they have with their loyal patrons to measure their success. With the holiday season in full swing, it's important for online companies to demonstrate their gratitude. There are several ways web-based businesses can show their clients how much they're valued as the new year approaches. Let's look at seven examples:
1. Be polite
Just because ecommerce organizations don't interact with their audience in person doesn't mean retailers should leave their manners at the door. While remembering and utilizing consumers' names is a given, online companies should also be sure to say both "please" and "thank you" in their correspondence with customers, according to Inc. magazine. Even the smallest of actions can make quite a difference.
"A social media shoutout can go a long way in consumers' eyes."
2. Give a shoutout
Many online companies have a handful of consumers who show their loyalty to the brand for an extended period of time. This dedication should be highlighted and content marketing efforts are a great way to do just that, according to Open Forum. Business leaders can pinpoint valuable customers and ask why they've remained devoted to the goods and services being offered. This insight can be used to pen client testimonials that can be shared via social media, emailed newsletters and on the organization's website and blog. The benefits of this appreciation strategy is twofold: web-based organizations build their credibility, while customers gain the acknowledgement they deserve.
3. Offer rewards
This may seem like a given, but online businesses can show their appreciation for their consumers by providing a prize. Rewarding consumers will encourage them to continue their loyalty to the brand as well as share their experiences with their friends and family. Entrepreneur suggested sending out a coupon, a gift or information related to the ecommerce retailer's offerings to clients. While the promotion gives consumers a discount, a small sample will enable customers to test out a product before purchasing. A helpful white paper or guide about a particular industry or the services on hand can easily be shared and give an audience greater insight into a company.
4. Share a sneak peek
Does your ecommerce organization have some new products or services in the pipeline? If so, business leaders can give their consumers a sneak peek at these offerings to demonstrate their appreciation, according to Pulse Marketing. Whether it's a look into the creative process or the distribution cycle, customers will enjoy seeing the inner workings of an organization they are loyal to. This strategy not only increases the level of engagement for valued clients, but gives audience members something to share when making a referral. On top of that, a sneak peek shows consumers that the company not only values their interactions, but trusts their opinion as well.
5. Provide top-notch service
While many of these examples are one-off ways to show customer appreciation, there's an everyday tactic online companies should utilize: exceptional consumer care. It's common for people to complain about one thing or another. Although these comments may be difficult for business leaders to hear, it's important for ecommerce retailers to address these concerns as quickly as possible, according to The Balance. This shows that online organizations value their clients' feedback and are always willing to improve their products and services.
In addition, web-based companies can provide top-notch customer care by maintaining a positive attitude, listening to the customer without interruption while also gathering relationship-building personal information and offering additional assistance during an inquiry, according to Business News Daily.
6. Try a handwritten note
People regularly receive appreciative emails from companies. Yet, the times consumers have gotten a handwritten letter from business leaders expressing their gratitude are few and far between. Ecommerce organizations can set themselves apart from the crowd by getting out a pen and paper to demonstrate their appreciation. Online retailers should be sure to include the consumer's name as well as highlight any personal information the organization may know through past interactions. Making the notes a little more personalized will show clients how much web-based companies care and will make consumers feel extremely valued.
7. Ask consumers
There's no better way to find out what customers will react to best than to ask them. Consumers can provide ecommerce organizations with the insight necessary to devise the most appropriate gift possible, according to YP Marketing Solutions. While online businesses can utilize this input to create more tailored appreciation techniques, the information can also give companies ideas about what products and services their clients want to see in the future. Thinking outside the box can open organizational leaders up to a wide array of conceptions that will better engage their audience. If a consumer shares an idea that is well received, ecommerce retailers will have another thing to thank people for.