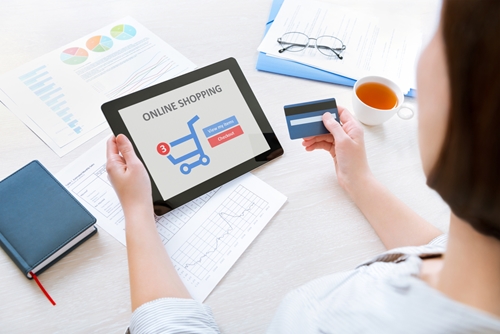 The end of the year is quickly approaching and online retailers are preparing for what 2017 has in store for their operation. It's crucial for these organizations to look toward the future while also keeping past trends in mind for the best success. We've already looked at popular ecommerce items of 2016, so here is SFG's breakdown of the top crazes for online companies for 2017:
Contextual shopping on the rise
Personalization is still a priority to internet businesses and it will continue to be into 2017. Yet, the face of individualization is changing as time goes on. In the upcoming year, many online organizations will turn their focus to contextual shopping, which allows ecommerce companies to easily implement buying opportunities into everyday customer activities and environments, according to TechCrunch. This trend is already gaining popularity. Consumers may already see buy buttons on their most-used social media sites.
This kind of experience doesn't require consumers to be logged onto a specific site to be sent relevant offers and information. This is beneficial for both clients and ecommerce retailers, as customers won't feel obligated to begin an account with a specific company while businesses will gain a selling advantage by distributing deals to former visitors to their sites. Online organizations can use contextual shopping to anticipate future wants and needs of their audience and improve shopping excursions moving forward, according to CMS Report.
"Many consumers will abandon a website if the page doesn't load quickly."
Lazy loading improves engagement
Today's consumers don't have a lot of time to waste. As a result, they take advantage of mobile optimization to make online purchases. Unless this buying process is up to their standards, however, customers may look elsewhere for certain products and services. It doesn't take long for clients to lose interest in an ecommerce site. According to Kissmetrics, 40 percent of shoppers abandon a website that takes more than three seconds to load.
In 2017, more online organizations will work to fix this problem on their own websites. One strategy that will be popular is lazy loading, which enables people to see some content immediately – even if the entire page isn't completely visible yet, according to IT Toolbox. Internet retailers that implement this tool will most likely see a reduction in abandoned shopping carts and stronger customer engagement.
Real-time customer service a must
The majority of online shoppers choose this mode of purchasing due to its convenience. They can buy necessary products with their mobile phones while they're on the go and have the package delivered directly to their doorstep. Yet, consumers don't want ecommerce retailers to scrimp on the service portion of the process. Instead, clients expect the same level of customer care from internet organizations as they do brick-and-mortar companies. In addition to tools like real-time chat functions, these businesses can combine predictive analytics to improve their conversions and make customers feel valued at the same time.
Tech At Last suggested that ecommerce companies pay attention to people who show interest in a certain product or service, but navigate away from their site to browse another organization's offerings. When consumers take this action, online retailers can create a popup that distributes a time-sensitive promotion for the item. This encourages customers to make a final decision and complete a purchase quickly before the deal disappears.
Retention of customers gains importance
Online companies understand the need to not only attract new customers to their websites, but to keep current clients happy enough to return in the future. Around 75 percent of American internet users already make purchases online, according to eMarketer, so retention will become increasingly important for ecommerce companies hoping to improve their growth in 2017.
Holding onto valuable customers has many benefits for Web retailers. Not only will these shoppers share their positive experiences with their friends and family, but these engaged consumers will share more constructive feedback, according to Access Development. In addition, it often costs less to retain a client than to acquire a new one. There are several strategies ecommerce companies can introduce to increase their retention rates, according to Entrepreneur. These include:
Develop social incentives, like a discount code that encourages referrals.
Don't rule out personal communication, including phone calls and email.
Give customers the inside scoop via an email newsletter.
Analyze consumer behaviors and habits.
Encourage customers to return with a discount code for related products after their first purchase.
Flexibility and scalability carry over from 2016
It's common for some of the biggest trends to continue their relevance into the next year. In 2016, flexibility and scalability were huge, especially regarding delivery and technology options. The year 2017 will be no different as online companies develop more inventive ways to provide the best shopping experience for their customers.
Online elements that may gain popularity in the next 12 months could include increased customer care options, same-day delivery, more frequent or spaced-out distribution intervals, payment plans and more. Within the ecommerce organizations themselves, company leaders may look to more scalable software options. This technology could enable businesses to increase their number of employees and customer service offerings during peak selling times and revert once those periods have ended.