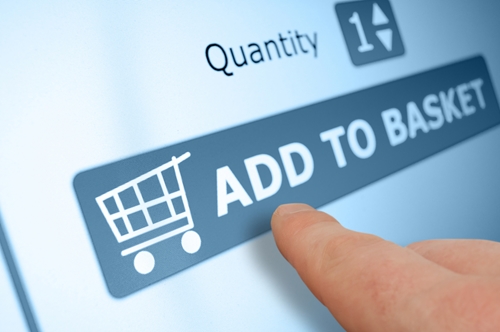 When it comes to a Web-based business, efficiency is everything. Consumers want a unique experience, catered to their interests and history with the company. Although there are many aspects to consider for ecommerce success, one of the most important is selecting a shopping cart. This function will store customer's product or service choices and make the purchase process that much easier.
There are a variety of ecommerce shopping carts for merchants to choose from on the market today. Let's take a look at what factors business owners should pay attention to when making their decision:
Ease of use
Implementing a shopping cart in a pre-existing or new ecommerce site is supposed to make the operation easier, not more difficult. That's why merchants should pay attention to the simplicity of their choices. Not only should ease of use translate to business owners, it should also be true for customers using the feature. Shopping carts should be painless for clients to navigate, meaning the checkout functions and ability to add or remove items from the queue is as straightforward as possible.
Business personnel will spend a fair amount of time on the administrative side of the shopping cart, according to Merchant Maverick. Since the merchant-facing portion of the software acts as the control room – containing customer information, inventory data, shipping settings and more – so it must be easy to use, while also storing important materials for future use. If the shopping cart is overcomplicated, it's a sign that it may not be a good fit for the online store and its customers.
"A strong ecommerce shopping cart will improve companies' SEO results."
Search engine optimization
One of the largest goals of any organization – whether online or a brick-and-mortar operation – is to build their consumer base and grow as a company. There are many strategies businesses can use to achieve this objective. For Web-based organizations finding a shopping cart with search engine optimization abilities is crucial, PC magazine suggested.
An easy to use and efficient shopping cart will help ecommerce businesses climb their way to the top of SEO results, driving more traffic to their site.
Support
Merchants never know what problems they'll encounter throughout the course of their careers and with their companies. While the thought of experiencing any issues is nerve racking for business owners, it's even scarier without the necessary assistance at their disposal. Many ecommerce shopping cart providers will offer some level of support to their customers, but it's critical for organizations to make sure this aid meets their expectations – or even exceeds them. A comprehensive support package should be at the top of every merchant's list when selecting a shopping cart. Elements like around-the-clock assistance via phone, email or online chat are essential, as is on-location service if deemed necessary. With the right degree of assistance, ecommerce companies can minimize the amount of downtime they experience when they face issues.
Mobile optimization
According to Pew Research Center, 64 percent of Americans own a smartphone while 42 percent utilize a tablet. As evidenced by this data, mobile devices are increasingly popular tools and ecommerce sites benefit greatly from their use. Customers no longer have to fire up their desktop computers to visit the Internet. Instead, the Web is in the palm of their hands, making it easier for them to surf different ecommerce sites and make purchases without leaving their homes.
To stay up to the times, merchants running a primarily online company need to implement a shopping cart optimized for mobile devices. All product descriptions, item availability specifics and payment data must fit without error onto the customer's screen for easy browsing, according to The Whir. Without this feature, clients could become easily frustrated and take their business elsewhere.
Express checkout
Almost every customer has experienced it at one point or another: They get all the way to the purchase page only to face seemingly never-ending requests for information. Of all the elements of an ecommerce shopping cart, the transaction process should be the easiest for clients to complete. If it's overly complicated, they could abandon their queue completely.
Merchants often have the option to introduce a shopping cart which has the ability to store customer payment details. While these versions often require consumers to register with the ecommerce store, companies may find more people are willing to sign up for a more efficient checkout, according to Network Solutions.
To make their ecommerce business more efficient, merchants have to consider many factors and features. Selecting an online shopping cart is vital, as consumers need a streamlined way to store products and services they're interested in purchasing. With so many options available today, business owners need to review many important elements before making their decision. It's critical for online businesses to find an ecommerce shopping cart that has as many of their predetermined requisites for the best level of success. Choosing an efficient and easy purchase queue will increase customer satisfaction and improve overall loyalty.