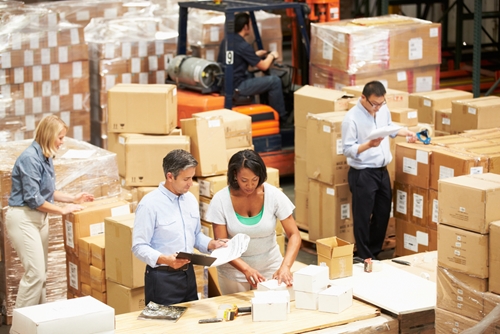 To streamline their ecommerce capabilities, many companies have turned to technological resources. In fact, 74 percent of businesses integrate an order management system with their online store, according to Software Advice. While this action is increasingly popular, organizations need to make sure they find and implement the best solution for their needs.
Every company requires different elements to help their operation run efficiently, but there are certain features that are a given for effective order management systems. SFG asks, "Can your OMS do this?"
"An OMS should be able to update customer information as changes occur."
Manage customer records?
Online retailers rely on their consumers to keep their business afloat. With each customer interaction, these ecommerce organizations gain a wealth of information. This data can be used for developing more individualized and segmented marketing efforts, analyzing purchasing patterns and devising client retention strategies.
While some companies may choose to introduce a customer relationship management platform to their operation, an order management system can handle that task and much more. Not only can the latter solution create consumer records, but an OMS can also update the ecommerce business's database as changes happen, maintain a comprehensive client history and generate helpful reports to push people through the sales cycle in a more skillful way. These practices are critical to maintaining and improving customer relationships over time, according to CIO.
Calculate tax and shipping costs?
Shoppers who primarily purchase online frequently look for ways to save a few extra bucks. Ecommerce customers flock to offers for free shipping, even if it means spending a little more upfront. It's vital to clients to see the entire cost of their order before entering their credit card information. This means businesses have to be able to calculate both taxes and shipping costs on the spot and ensure those prices remain the same when the shipment is processed. If there is a discrepancy, consumers should be made aware of the change and the different charge on their card.
Ecommerce organizations need an OMS that can complete this task for them. Without it, companies could experience angry customers and reduced consumer loyalty as a result of inaccurate tabulations. The key is making the online ordering process as easy for clients as possible. Businesses that can't properly calculate taxes and shipping costs are making the process that much more difficult for customers.
Process orders and manage inventory?
Once a customer completes his or her purchase, the order slip is sent to a company's processing team. This group is responsible for ensuring the proper items are placed in the package or that the appropriate services are distributed to the client on time. To carry out this responsibility effectively and in a timely manner, ecommerce employees need to have accurate information related to available items and be able to locate them within the business's warehouse.
Can your OMS both process orders and manage inventory? If not, your online organization could be missing out on valuable features. These capabilities ensure shipments are sent out and delivered quickly and by the predetermined arrival date, resulting in increased customer satisfaction and a higher likelihood for future purchases. Furthermore, implementing this kind of technological resource can help companies track orders as well, according to Practical Ecommerce. This way, should a package be delayed or be missing items – due to backorder or otherwise – online retailers can alert expectant customers to the issue and develop a plan to rectify the situation.
Handle customer service?
Consistency is vital when it comes to consumer care. Company representatives can't provide great service one day and phone it in the next. Ecommerce customers expect help for a variety of issues and online businesses have to be prepared to assist. To provide top-notch client care, organizations must show compassion, demonstrate respect, be responsive and friendly and, most importantly, listen, according to The Balance.
There's a reason the customer is always right. Trying to go against what a paying consumer claims can only spell trouble for an online retailer. While customer service representatives may be correct, failing to listen and trust the client will likely result in loss of business and the chance for a threatened company reputation. Someone who feels wronged by an ecommerce organization will probably tell his or her friends. Negative word of mouth can be very detrimental.
Web-based retailers need an OMS that can handle customer service – to a certain extent – for them. The solution should quickly respond to consumer complaints and comments to let people know their opinions are valued by the company. Although automated messages shouldn't only point of contact customers have with service representatives, they can be helpful for managing emailed criticisms. It's important, however, for ecommerce organizations to be sure to respond to these correspondences quickly – within 24 hours would be best.
With SFG's order management system, ecommerce companies will be asking, "What can't our OMS do?" The solution can manage the tasks mentioned above, among many others.