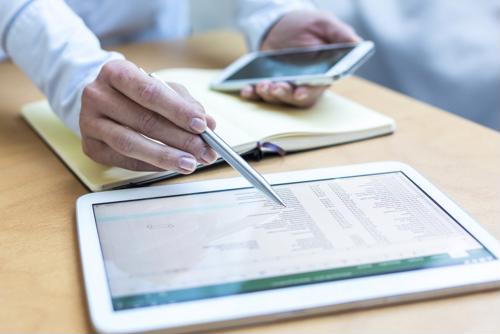 No matter what industry you work in, you've probably heard a lot over recent years about the importance of big data and the immense possibilities of business analytics. Still, it's difficult to know where to begin when developing a strategy that draws on the extensive quantitative information that's so readily available today. Every business has its own needs and priorities, and implementing the appropriate big data solutions could make all the difference in successfully planning for growth.
Working with an expert partner, organizations can select the right approach for collecting, managing and using data. With meaningful insights on their side, leaders find opportunities for improvement in areas like customer service, manufacturing and fulfillment. A customized, integrated analytics strategy gives companies a crucial advantage in an increasingly fast-paced global marketplace.
Good data is clean data
"An effective analytics strategy has its foundation in reliable data."
An effective analytics strategy has its foundation in reliable data. However, quantitative findings are not usually well-structured when an organization first gathers them in raw form. Databases often contain information that's corrupt, redundant or otherwise misleading, and that's why thorough cleaning is an essential step, yielding entries that are valid, complete and uniform.
An effective approach to data hygiene allows an organization to direct findings to the internal departments that can make the best use of them and develop plans based on accurate information. Clean data entries are especially crucial when it comes to sorting databases of customer information to guide marketing and sales efforts. Merging key data from multiple entries and purging any duplicates ensures that informational materials and other communications get to the right people.
Capturing business intelligence
Growing an organization depends on leaders looking at relevant information and making the right decisions. When companies bring together information from various sources to guide their planning, the result is actionable business intelligence. This data can provide a window into consumer preferences, areas for operational improvements or the best ways to segment audiences for marketing efforts.
Since the purpose of business intelligence is to guide leaders onto the right track in their strategic thinking, it's most effective when the findings are easy to understand. Clear visualizations and intuitive dashboards put the data that decision-makers rely on in front of users. With enhanced visibility, organizations can move with agility to take advantage of opportunities for boosting efficiency or expanding operations.
Establishing a unified relational database
With the right data, an organization gains a deep understanding of its customers, ranging from basic demographic information to what online content holds their interest. In turn, the better a business knows its customers, the more decision-makers can do to meet their needs. Equipped with the necessary technology and know-how, businesses can populate a unified relational database that offers a 360-degree view of the consumer.
SFG connects companies with a centralized repository for customer data and the advanced database management tools to make the best use of that information. Drawing on a customized set of big data solutions and a powerful order management system, businesses can make each transaction a step toward sustainable growth.