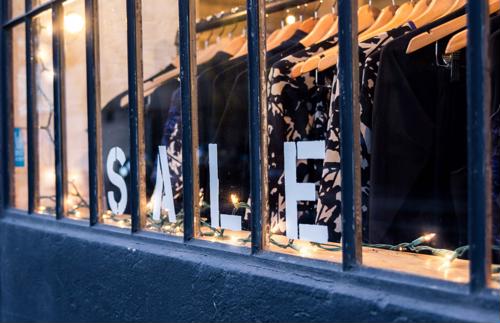 Your retail storefront is an incredibly important part of your business. It can literally make or break connections with potential customers as they walk by, and provides a sneak peek into not only your merchandise, but your brand as a whole.
For these and an array of other reasons, it's important for store owners to put some good thought into their storefront designs and create a display that draws people in. As you work on that pursuit, here are a few tips you should follow:
1) Make it clear
For passersby, your storefront represents their first look into your brand and the merchandise or services you offer. In this way, your storefront should be an accurate representation of what your company provides, and shouldn't leave people guessing as to what you do or what you offer.
A few things to keep in mind here:
Ensure your name stands out. Your signage should be clear and noticeable. Shoppers won't enter your store if they're unsure, or it's unclear that your location is actually a store.
Displays should align with your key offerings. This means putting your best merchandise on display, or showing the types of services you offer through other imagery.
Include a list of your hours, top services and/or specials so people passing by can get the most information about your business with just a quick glance.
"Small touches go a long way in welcoming customers."
2) Give it a welcoming feel
In addition to making clear what kind of business you are and what you can offer customers, your storefront should also bring a welcoming feel that encourages people to come inside. A dark doorway or blank building face certainly won't spur walk-ins. Small touches like adding a welcome mat, soft lighting and foliage out front can make a big difference.
3) Design for your target audience
As a business owner or key stakeholder, you should have a clear idea of who your target audience is, what these individuals want from a brand like yours and what they care about. These details are used to inform much of your business strategy, and bringing these insights to your storefront designs is especially beneficial.
In order to do this successfully, Shopify recommends taking things deeper, beyond just basic demographic information. Boning up on your target audience's key behaviors and the psychographics that motivate them will help you create storefronts that truly appeal to the shoppers who will likely become loyal customers.
4) Ensure it aligns with your brand image
It's important to create engaging displays that group similar merchandise together, and help show customers how products will function or how items will look in their own homes. Using available vertical space and including elements that appeal to other senses besides sight (music, scents, etc.) are trending approaches in retail currently.
However, it's also critical that you don't stray too far from your brand image. Sure, a seasonal display may incorporate different items that aren't the usual for your company, per se. But displays should still support your brand image. Incorporating your brand logo and colors, as well as other items or visuals that reflect your company's values and attitudes, will help keep the shopping experience consistent for customers.
For more best practices, check out our blog and connect with us at SFG today.