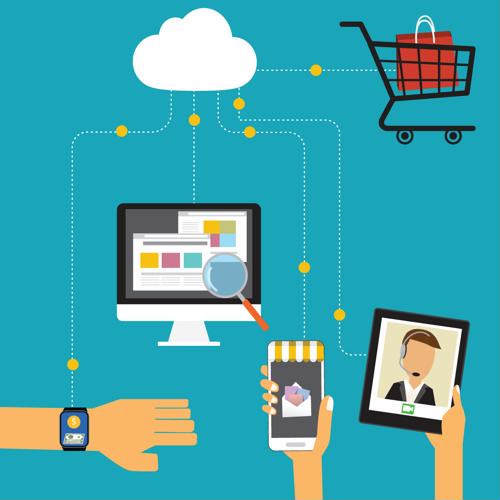 In the current environment, the customer experience is often spread across multiple different platforms, including the main website, social media, outside seller partners and more. However, retailers need to do more than just provide these different channel options – they must also ensure that the customer experience across these touchpoints is seamless and cohesive.
"Within omnichannel, platforms and touchpoints are considered as a whole."
Multichannel vs. omnichannel
Just a few years ago, when the mobile experience began to take center stage, organizations worked on enabling customers to use their smaller-screen devices to access the brand's different touchpoints and platforms. Now, however, things have come much further.
The above – simply providing access and enabling customer interaction across different channels – falls under the umbrella of multichannel. While there are different touchpoints available, these were often treated separately and individually siloed. Hence, customers couldn't seamlessly go from one channel to another, and pick up where they left off in their consumer journey.
Omnichannel, on the other hand, builds on multichannel by providing this level of cohesive experience. Within omnichannel, platforms and touchpoints are considered as a whole, and the brand unifies channels to establish a more complete and streamlined customer journey and experience.
Keys to success with omnichannel
Now that consumers are demanding a higher-level and more unified experience across the board, brand retailers and members of their supply chain must work together in order to support a true omnichannel strategy. A few critical keys to success here include:
Ensuring support for mobile
While this may seem like a no-brainer, statistics show that more work is still needed on the part of businesses in this area. According to SuperOffice, 90% of consumers noted that they recently had a negative experience through mobile channels. What's more, 52% of these individuals said that a poor mobile experience diminishes the chances of them returning to the brand in the future.
In this way, supporting an intuitive mobile experience is critical. This includes ensuring that all website elements display properly on smaller screens, and essential features – particularly those for making purchases – function correctly.
Recognizing customers across channels
One of the most critical distinctions between multichannel and omnichannel is the ability for customers to begin their journey on one channel, and then pick up where they left off via another device or channel. In other words, brands need to be able to identify who customers are, no matter what channel or device they're using to engage.
This isn't as difficult for a business as it may sound. Robust customer database management is a powerful tool here, enabling brands to get a 360-degree view of customers throughout their lifecycle.
Providing real-time data
Another imperative aspect of the omnichannel experience is enabling customers to access actual real-time data, including that related to product availability and their order disbursement.
In this arena, an industry-leading order management system can support these needs. Such technology, like SFG's FlexOMS, includes an inventory management component for product availability and allocation, as well as accurate calculation of shipping and sales tax. In addition, FlexOMS can even send out automated order shipment emails to customers so they're always in the loop as to their order fulfillment.
To find out more, check out our website and connect with our customer lifecycle specialists today.