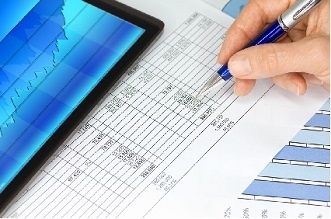 Today, the quickness with which information is delivered is crucial to businesses and their customers. With the advent of social media, that fact is even more apparent as people rely on minute-by-minute updates for things like the news. Organizations can use the desire for updated data to their advantage, but only if they gather materials in real time. SFG has a closer look at the importance of real-time data:
"Having large quantities of data gives companies a well-rounded view of their past, present and future."
The definition is different for every type of company
Being able to attend to consumers' needs and improve overall satisfaction and loyalty is a critical element of any business offering a good or service. To do this, companies rely on a wide array of information they've pulled together over time. These metrics could include click-through rates, time spent on an ecommerce page, position in the sales funnel and number of return purchases and many more. Collecting real-time information can help organizations even further by providing current materials leaders can use to make large business decisions that could affect the way their enterprise operates.
This kind of information has a different definition for every type of business, however. While non-profit organizations may find data starting from the beginning of their relationship with a customer to the present date, ecommerce companies may find to-the-hour and to-the-minute materials the most helpful. While real time may be unique to each enterprise, gathering the most information possible – in the window of time that suits the business's need – is the best practice to make vital decisions, according to Forbes. Having large quantities of data to analyze will give companies a more well-rounded view of their past, present and future.
Accurate promotional and inventory tracking
Clients love receiving special offers and discount codes. These promotions enable organizations to target customers stuck in the sales funnel while also encouraging consumers who have already made a purchase to complete a transaction again. As companies rely on consumers to open and take advantage of these gifts, people depend on businesses to make sure the goods and services they're promoting are actually available.
Both promotional and inventory elements can benefit from real-time data. Companies often utilize a person's previous interests – like saved items in a shopping cart – or previous purchases to tailor an offer. This action shows that business leaders are paying attention to client's wants and needs, and enables consumers to finally follow through on their own desires. Without real-time information, however, these offers can be rendered useless. The item may be out of stock, or no longer preferred by the customer. To ensure both discounts and inventory truly reach their audience, organizations should utilize real-time data for better customization, according to Business 2 Community. Consumers will truly appreciate the additional attention to detail.
Ability to keep competitive advantage
Every company has one or two strong opponents in its industry. Business leaders know how important it is to keep their edge over their competition. While quality of goods and consistent customer outreach are vital, organizations should also utilize real-time data to maintain their advantage. By frequently analyzing critical materials, enterprises can improve their level of foresight within the market. In fact, 19 percent of executives said real-time data improved their competitive lead, CIO Insight found.
For example, businesses may notice a drop in sales over a certain period of time. Without up-to-date information, organizations may continue to experience this type of trouble without understanding the cause of the problem. Utilizing current data, however, enterprises may realize their opponents are running an offer that is pulling customers away from their goods and services. As a result, they can design their own promotion or better manage their item's prices to pull clients back to what they have to offer.
"A closer look at the cause-and-effect of problems can be managed with efficient and concrete data."
Improvement of business intelligence
No company is perfect. Companies understand there's always room for improvement and actively take steps to increase the likelihood of their organizations succeeding. These actions are different for every enterprise, of course, but real-time data can be a valuable asset in better realizing what needs to be done.
With this information, businesses can gain better intelligence into their regular practices and processes, according to TechTarget. This type of technology gives companies immediate access to operational materials they can then utilize to update and alter their systems in a more effective way. A closer look at the cause-and-effect nature of company problems can be better managed with efficient and concrete data.
Real-time data has always been important element of business, but not all companies had access to it. In today's world, however, when up-to-date information is critical to organizations and consumers alike, these materials have become even more vital to success. Although the definition of real time varies from business to business, this data can assist enterprises in improving accuracy in promotions and inventory management, keeping their competitive edge and increasing their overall business intelligence. As a result, customers will feel more valued in the purchasing space, leading them to be more satisfied and loyal to certain organizations.
SFG offers programs and systems that all deliver information in real time. From order management software to data management solutions, SFG provides companies with technology designed for success.