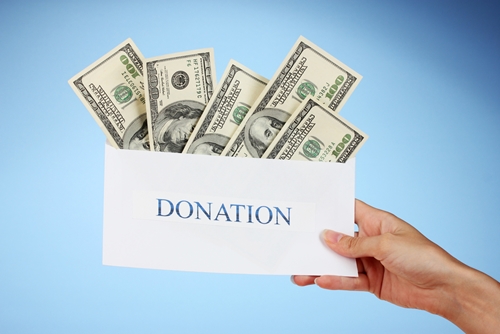 A variety of industries rely on clean data in order to best interact with their consumer base and nonprofits are no different. It's important for these organizations to regularly scan their database for old and outdated or otherwise incorrect information. Not for profits can then sift through those materials and either reach out to their audience for an update or eliminate the data from their system altogether.
Since nonprofits rely on donations to keep their mission up and running, data cleansing is crucial. Without current information, how can they contact potential and existing donors? For successful fundraising, organizations need to ensure their information is as clean as a whistle.
Clean data results in higher profits
It's difficult for nonprofits to reach their clientele if people's data is incomplete or incorrect in the organization's system. Dirty data could result in reduced profits and poor consumer relationships over time. In fact, companies that have increased their revenue in the past 12 months credit their central management of their data, according to an Experian study. Furthermore, those same respondents believed 27 percent of their revenue was wasted on incorrect or inaccurate data.
Not for profits must create a procedure for cleaning their information to gain the highest profits possible from donors. This program can often depend on the size of the organization and their base of supporters. The Nonprofit Quarterly suggested thorough data cleaning every year for nonprofits that regularly reach out to their donors requesting larger gifts. On the other hand, organizations utilizing a more wide-scale audience for support – for example, a direct mail strategy which reaches a large number of contacts – should analyze their information on a quarterly or semi-annually basis to ensure everything is in order.
Regular cleansing offers many benefits
While implementing a data management and cleaning procedure may seem like an extra chore to nonprofits, in the long run it will provide organizations with many advantages. To begin, correct information can help save money on marketing efforts. Outdated materials will result in wasted advertising, as expensive strategies may fall on deaf ears. On the other hand, data that is current can be spread via referrals, bringing in more funds for nonprofits with less outbound marketing. In addition, having the right data helps advertising teams better target their donors, allowing them to spend less money while making a bigger impression.
"Implementing data cleansing practices can boost donor satisfaction."
These improved efforts can improve a nonprofit's overall reputation. Donors who enjoy the individualized marketing they receive are more likely to donate and tell their friends and family to do the same. To combat the appearance of mass advertising, nonprofits should make elements, like proper casing, a priority. For a greater response to their outreach, organizations need to make sure their donors' names aren't manually or automatically entered in all upper- or lower-case letters. Managing aspects including casing make the outreach that much more personal. These satisfied contributors could also continue to send funds if they feel the efforts are created to fit their needs.
Furthermore, clean data will also help nonprofits with their account management, according to PodBox. Keeping donor records in order is another important way to encourage continued contributions. Organizations that maintain these profiles are better able to demonstrate how benefactors' funds were used and utilize the accounts to streamline future donations.
How to successfully clean data
Having correct and current information for donors is crucial to fundraising, as well as many other nonprofit practices. Since data cleansing can offer organizations so many short- and long-term benefits, it's important for companies to know what steps to take for complete effectiveness and efficiency. Not for profits should adopt the following routines:
Review data entry procedures regularly: Poor practices can result in false information listed in a nonprofit database.
Train employees on data processes: Workers should be familiar with a uniform system for entering and updating information.
Run a National Change of Address test: Organizations can check to see if their donors' home addresses are current by performing a NCOA analysis once a year, according to DonorSearch. Nonprofits can also request USPS address corrections in at least one mailing every 95 days. SFG suggests performing this action even more frequently than the USPS standard as organizations could still lose a percentage of their audience in the meantime.
Identify records belonging to the deceased: The Social Security Death Benefit database will help nonprofits eliminate account information and other data that is no longer relevant, according to npENGAGE.
Monitor bounce-back emails and unreturned donation phone calls: These issues may be signs that the data needs to be updated.
Eliminate uninterested contributors: Organizations should get rid of any data relating to one-time donors that have been present in their system for over two years. It is unlikely these people will give to the cause again.
Check for duplicate data and accounts: Nonprofits should ensure the information matches then delete one version.
Utilize outsourced data hygiene services: It can be overwhelming for organizations to clean their data on their own. Using a third-party provider for these services can save nonprofits time and money, allowing them to focus on other, more crucial aspects of their outreach.
Nonprofits rely on donations and fundraising to survive and succeed. Without correct and clean data, their efforts will struggle to find an appropriate audience. It's crucial that these organizations practice regular data cleansing to ensure their contributor records are frequently updated with the right information for future outreach. Clean data will improve not for profits' effectiveness and efficiency while also improving their profits and donor satisfaction.