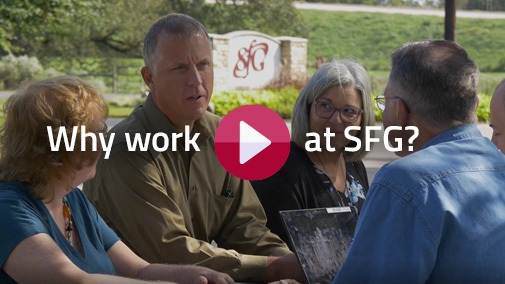 Come Grow with Us
Every employee is a vital member of our team. Innovation is celebrated, positive outlook is promoted and respect for our fellow employees is the norm. We realize the importance of integrity, and we support a reasonable balance between the demands of work and family.
Competitive benefits, opportunity and an outstanding work environment make SFG an employer of choice in the east Texas area.

SFG participates in the E-Verify system with the Department of Homeland Security and the Social Security Administration to confirm work authorization. Click here to view and download E-Verify posters.
We take your interest in working with us very seriously. For additional information about SFG employment opportunities, please contact our human resources team as follows:
(888) 685-2233 or
(903) 636-2233
Monday-Friday 8 a.m. to 5 p.m.
After hours, please leave a message
Attn: Human Resources
111 Corporate Drive
Big Sandy, TX 75755
After submitting an online application, you will receive an auto-generated confirmation email to let you know that we received your application. You will be contacted by a member of our staff if we need to verify your information or schedule an interview. Due to the large volume of applications we receive, the review and recruitment process may take several weeks. Your patience and consideration are appreciated.